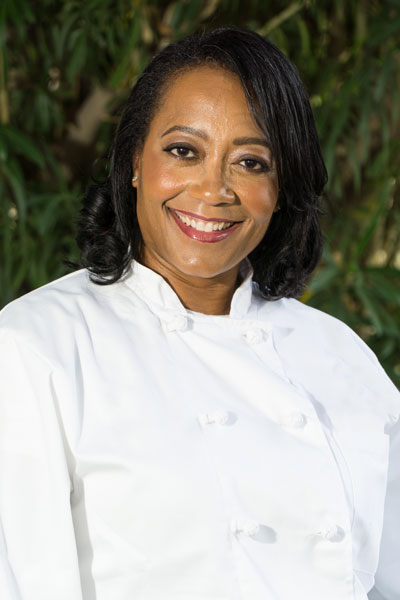 Name: Kristal Damron
Age: 50
Title: Chef / Owner / Author
Married/Single: Married
Kids: 2
City you live in: Phoenix
A typical day in my life includes…  
assuming the role of taxi driver to my children totting them to their various activities…being Mom!!!
I was born…
in Chicago – the Windy City.
My favorite thing about Arizona…
the sunsets as the cascade over the mountains.
I'm listening to…
NPR, KJazz, PBS.
My family…
is an awesome bunch. I love them dearly and they are so supportive. I am very proud of my family.
If I could have dinner with anyone, it would be…
my husband. Jared is cool, fun and I can stare at his beautiful eyes all day.
One thing I cannot live without…
peace of mind. I need to have a moment to myself to self-reflect, pray, and get centered so I face the day's challenges masterfully.
When I was younger, I wanted to be…
veterinarian. My mom loves animals so I grew up with everything 🙂 It only seems natural to take care of them.
I'm inspired by…
so many people but mostly, right now in my life, my children. They surprise me everyday and I learn something new about them.
The one person who motivates me is…
it's not one person, but my cheerleaders that I keep close and on speed dial.
If I could change anything in the world, it would be…
the ills that prevent one for achieving their goals.
The perfect day would be…
relaxing in Maui by the beach eating a great meal with a beautiful full-body Cabernet Sauvignon.
My first job was…
a mail clerk in Chicago.
My favorite escape…
is Italy.
My life…
is full of love and joy, I am so blessed.
I'm currently working on…
launching my new book, "Entertaining and Celebrating: An Elegant Feast For Every Season".
Always…
be grateful and appreciate the small treasure in life, respect others and love yourself.
Never…
give up on passion; you have everything you need within you.
Favorite Quote…
"Know Thyself" – Socrates. I recently came across this and it's so applicable today.
Biggest Dream…
to own my own private equity company – bring companies together and helping them reach their goals.
My Pet Peeve(s)…
when individuals settle for mediocracy because they do not want to try to achieve the greatness inside themselves.
More about Kristal…
Kristal Damron owns Reward Your Appetite Catering, a fine dining catering company offering exquisite cuisine with exemplary service. Kristal's catering career was borne of a desire to spend more time cherishing others through her joy of food and elegant style. With business acumen she developed over 20 years in corporate finance, Kristal charted a course for success that included graduating with honors from the Arizona Culinary Institute in Scottsdale, and publishing a book to inspire elegant entertaining throughout the year. In addition to her culinary training, Kristal holds a BA and an MBA from the University of Illinois at Urbana-Champaign. She lives in Phoenix, Arizona, with her husband, Jared, and their two daughters, Arianna Victoria and Alexandria Isabella. She and her family enjoy traveling, visiting parks and museums, and spending time with family and friends.