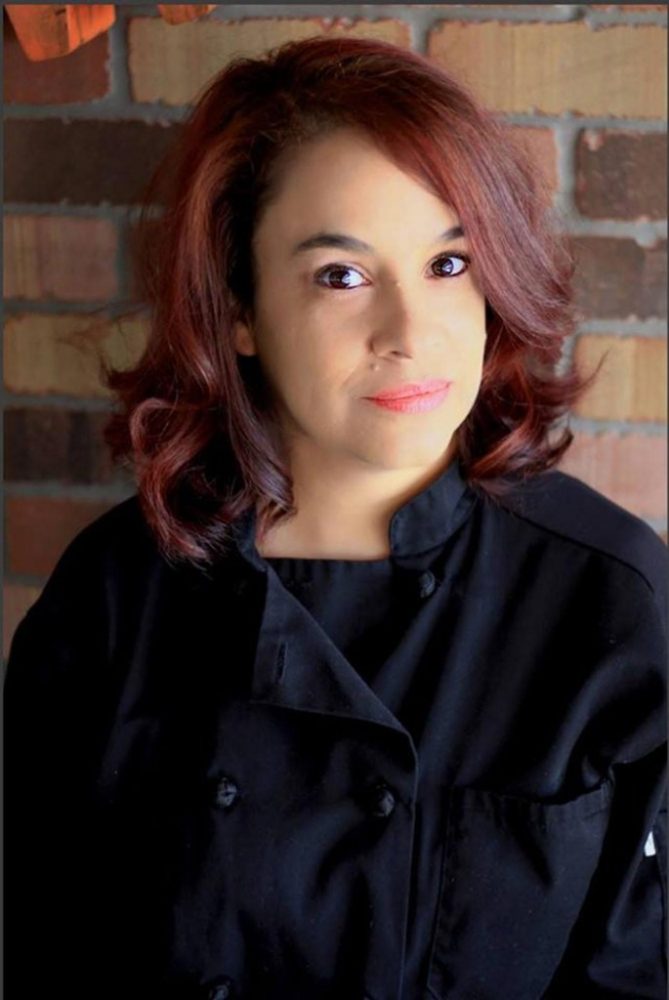 Name: Julie Moreno       
Age: 40 something
Title: Owner/Chef of Jewels Bakery and Cafe
Married/Single: Married
Kids: 6! From 3-25!!
City you live in: Phoenix, AZ
A typical day in my life includes…
waking up to being kicked by kids sneaking in my bed at night. , packing lunches, 10-12 hours at the cafe,  baking, hiring, scheduling, cleaning, rushing home, dinner, homework, homework, homework, laundry, fall into bed!
I was born…
here.
My favorite thing about Arizona…
the amazing fall and winter.
I'm listening to…
Elmo singing "What's the letter of the day" on my one day off in the past 2 weeks while I still work for hours from home.
My family…
is amazing and is what keeps me going.
If I could have dinner with anyone, it would be…
Alton Brown. He is so interesting picking apart why and how things happen in baking and cooking. When you understand these things all things are possible.
One thing I cannot live without…
dark chocolate! It makes everything better.
When I was younger, I wanted to be…
a fighter pilot.
I'm inspired by…
my mother. She is so selfless, kind, and giving no matter what.
The one person who motivates me is…
I can't say that it is just one person. It's the customer who cries because they can finally eat something they have missed for years because of food allergies or sensitivities, It's my family for putting up with the long hours, it's my father for always having my back, and French Pastry (not a person but definitely has a personality)!
If I could change anything in the world, it would be…
to end hunger. There is so much wasted food and so much wealth. Why can't we find a way to distribute this and have more fortunate people help the less fortunate??
The perfect day would be…
me on the beach with my family.
My first job was…
waiting tables at a steakhouse.
My favorite escape…
spending time with my friends having a margarita.
My life…
is blessed.
I'm currently working on…
some new, fun changes to the menu and more amazing pastries including more vegan options.
Always…
persevere.
Never…
give up on your dream.
Favorite Quote…
"Not everything you try can be done, but nothing can be done until you try."
Biggest Dream…
my own cooking and baking show for people with food allergies.
My Pet Peeve(s)…
over sweetened pastries, over salted food, well-done steaks and burgers!