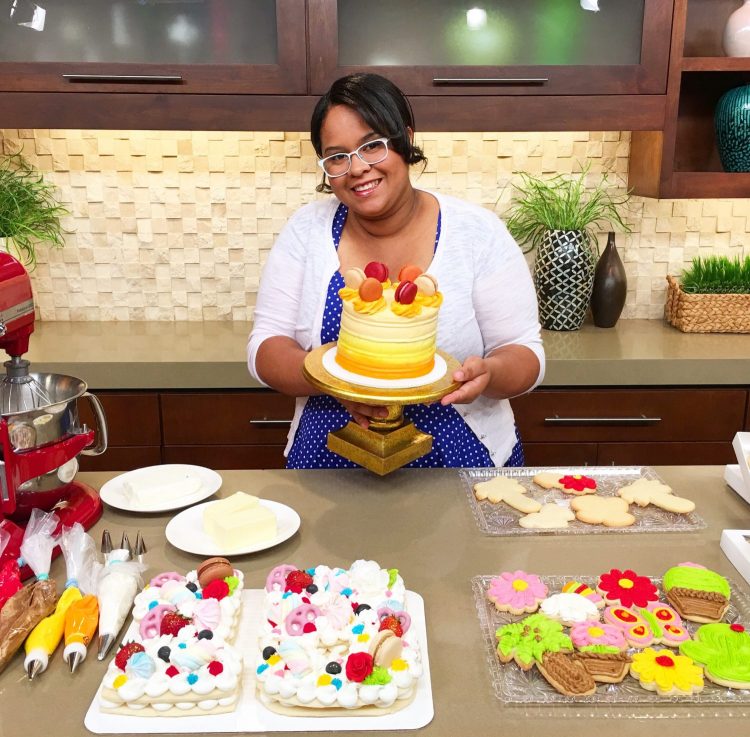 Name: Julia Perugini
Age: 34
Title: Owner of Julia's Cookies LLC
Married/Single:Married
Kids: 1 little girl
City you live in: Maricopa
A typical day in my life includes…
baking, taking cake of my family.
I was born…
in Brazil.
My favorite thing about Arizona…
the sense of community, we have so many amazing cities and the people really connect and help each other.
I'm listening to…
gospel, jazz, blues, soul.
My family….
is my life, my heart and greatest priority.
If I could have dinner with anyone, it would be…
Oprah I think.
One thing I cannot live without…
my family…and my phone lol.
When I was younger, I wanted to be…
astronaut.
I'm inspired by…
people who never give up, brave and fearless people.
The one person who motivates me is…
my daughter Sophia because I want her to be proud of me. She will look back one day and understand how hard her mom worked to be the best that she could. This is why I work so hard.
If I could change anything in the world, it would be…
I would add empathy to everyone's mind because when you can put yourself in someone's shoes your kindness shows up.
The perfect day would be…
a rainy Sunday with no baking to do lol.
My first job was…
ironically my first job was at a bakery.
My favorite escape…
anywhere quiet with an ocean view.
My life…
is a blessing and a miracle.
I'm currently working on…
the growth of my business.
Always…
be kind.
Never…
judge someone by their appearance.
Favorite Quote…
this is hard to choose one, but her it is:
"I have not failed. I have just founded 10,000 ways that won't work!" – Thomas Edison.
Biggest Dream…
I have a few…have a chance to travel and take baking classes in many different countries is sure on the top of my list.
My Pet Peeve(s)….
rude people.
More About Julia….
From home baker to baking on national TV, Julia is a self-taught baker originally from Brazil. Most recently, Julia's Cookies was featured in the Food Network's "Christmas Cookie Challenge". The mom and spends 10-12 hours a day baking, decorating and researching how to improve her techniques. When her family goes to sleep, the light in Perugini's kitchen remains on. Julia has been featured in numerous local magazines, newspapers and is a familiar face on several local news and tv shows. She spends most of her time baking for her business but has also has begun teaching classes throughout the Southwest.