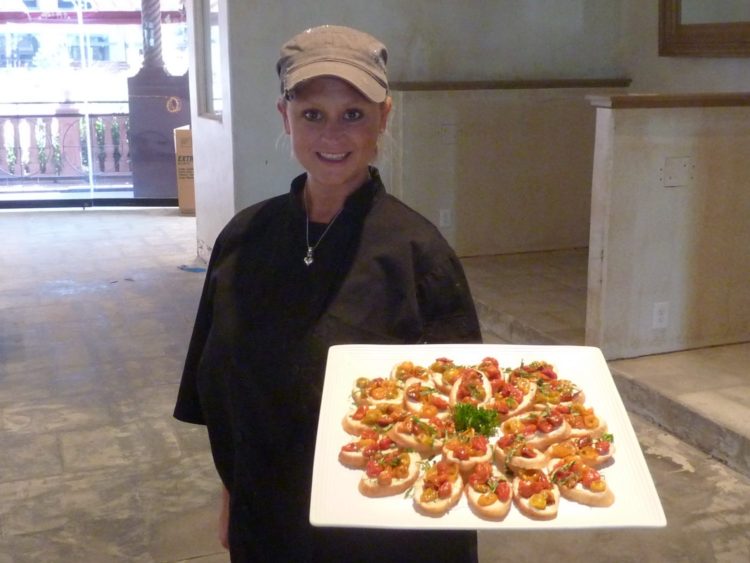 Name: Emily Garner
Age: 46
Title: Chef/Owner of Emily's Events
Married/Single: Married
Kids: 3 Fur Babies – Bailey (Golden), Sadie (Black Lab), and a cat called Stink!
City you live in: North Scottsdale
A typical day in my life includes…
cooking.
I was born…
in a small suburb of Chicago called Lake Forest.
My favorite thing about Arizona…
the McDowells at sunset.
I'm listening to…
funky music at Montelucia while getting my hair done.
My family…
is my everything.
If I could have dinner with anyone, it would be…
anyone interested in investing in our Italy farm house B&B or maybe POTUS if he were in need of a new chef.
One thing I cannot live without…
cheeseburgers.
When I was younger, I wanted to be…
an actress, a lawyer, a shrink, but never a chef. LOL
I'm inspired by…
challenge.
The one person who motivates me is…
well in this case there are two, my parents. They set the bar high and that keeps me kicking.
If I could change anything in the world, it would be…
travel would be safer and cheaper and more encouraged in life!
The perfect day would be…
no phones, my husband and I in a car on any road in the world playing "Left, Right, Center" and see where we wind up.
My first job was…
at McDonalds. I was the biscuit maker.
My favorite escape…
anything involving an airplane, a body of water and an umbrella drink.
My life…
is fun! I'm a very happy girl all in all. I'd be a fool to ask for anything more.
I'm currently working on…
jumping onboard with social media.
Always…
try.
Never…
give up.
Favorite Quote…
"Imagine you're a deer…" – MT
Biggest Dream…
to own and operate a quaint Bed & Breakfast in the Italian country side with a beautiful farm/garden. Raise some pigs and grow wonderful organic produce and grapes (for wine of course)!
My Pet Peeve(s)…
bad drivers.
Click here to order a Trendsetters reprint.