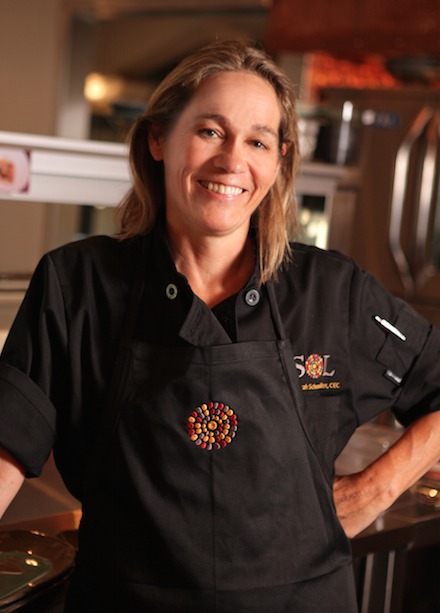 Name: Deborah Schneider
Twitter
Facebook
Website
Age: Currently three twenty-year-olds, or when I'm feeling more grownup, two thirty-year olds.
Title: Executive Chef/Partner SOL Cocina & Solita Tacos & Margaritas.
Married/Single: Married for 30 years this year! Amazing!
Kids: Two, ages 27 and 24, one architect and one biologist. Yah, I'm bragging.
City you live in: San Diego. Yah, I'm bragging.
I was born…
restless, day-dreamy, curious and always hungry.
My favorite thing about Arizona…
feels like being home in Canada, only warmer. And I love the skies.
I'm listening to…
Wolf Alice, Alt-J, Tame Impala, LCD Soundsystem, Fleet Foxes, Ratatat, cheesey French pop music, Lord Huron, Oasis, War on Drugs, Joni Mitchell, Hot Chip, Phoenix, Broken Bells… And any playlist by our Director of Beverage, Colin Pflugradt. Shall I go on?
My family…
is the best thing I've ever done.
If I could have dinner with anyone, it would be…
my father's MacDonald clan, back to the 1500s – a gang of insane Scotsmen and badass Scots women. Now that would be a party. There might even be food at some point.
One thing I cannot live without…
Coffee. Well, eyeliner. No, coffee. Coffee first then eyeliner.
When I was younger, I wanted to be…
Queen Elizabeth 1 (the Tudor one).
I'm inspired by…
the thought that if you do anything obsessively enough, it becomes art.
The one person who motivates me is…
anyone who can go from Crow pose into an unsupported handstand.
If I could change anything in the world, it would be…
guns and explosives would turn to sugar.
The perfect day would be…
a day without Twitter.
My first job was…
stuffing envelopes. Not all that different from what I do now, but the envelopes didn't post on Yelp.
My favorite escape…
is writing.
My life…
has been fantastic. I've had the best run you can imagine, and it just keeps getting better. I am so grateful.
I'm currently working on…
my first novel, after eight cookbooks.
Always…
remember your best work is still ahead of you.
Never…
be the one to say 'no' to yourself. And never say never.
Favorite Quote…
"A life spent making mistakes is better than a life spent doing nothing." (George Bernard Shaw)
Biggest Dream…
drive from San Diego all the way through Central and South America, to Tierra de Fuego, and back up again. Second biggest dream is to do an unsupported handstand.
My Pet Peeve(s)…
the Internet. You kids! This is why we can't have nice things.
Click here to order a Trendsetters reprint.