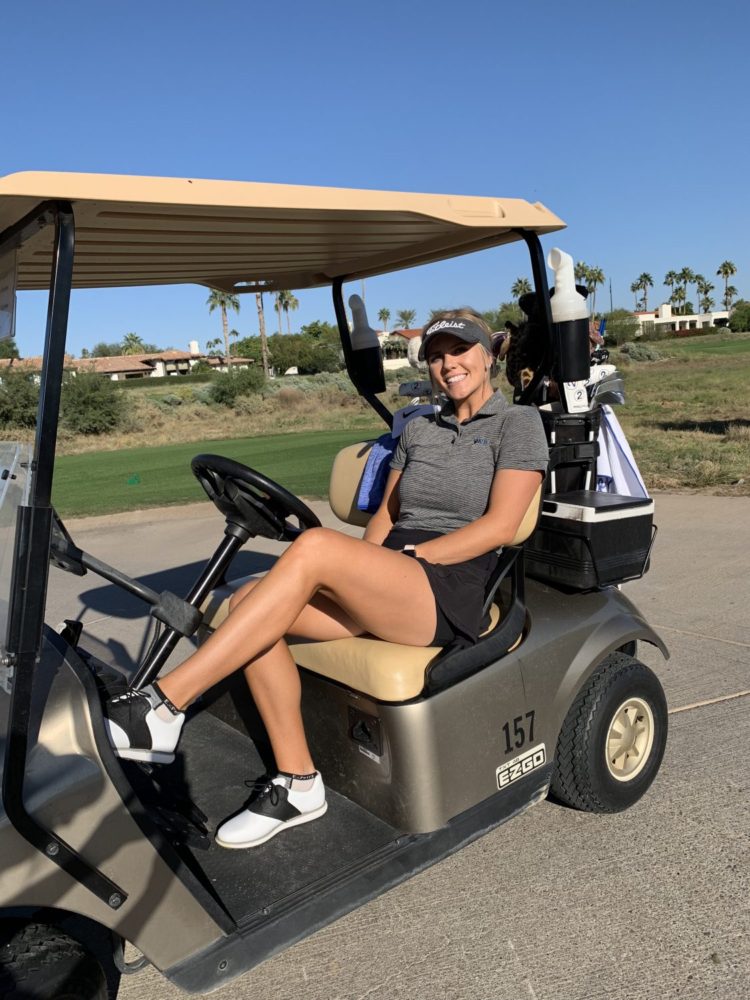 Name: Morgan Reimler
Age: 25
Title: Professional Golfer
Married: I am not married but I've been with my boyfriend for four year's and he's the best!
Kids: I don't have kids. But I do want a dog soon.
City you live in: Scottsdale. I moved here last year from Columbia, Missouri where I was born and raised.
I was born in…
in Columbia, Missouri.
My favorite thing about Arizona…
is the mountains and sunsets. I have lived here for a year now and I still am in complete awe of how beautiful this state is.
I'm listening to…
Motown always. I love all kinds of music but oldies are my favorite. I wish I could have been alive to see all the Motown greats perform.
My family… is hands down the best group of humans ever. They are so supportive and encouraging, and absolutely hilarious. I am so beyond blessed with the family that I have.
If I could have dinner with anyone it would be…
Bono. He is so inspirational and such a genuinely good person, and a musical genius. He just seems like he has a grasp on the important things in life.
One thing I cannot live without…
is sunshine. One other thing I could not live without is popcorn. Both of these things bring me life!
When I was younger, I wanted to be…
a baker. I had to decide in high school between going to culinary school or going to school on a golf scholarship. Baking will always be one of my passions.
I'm inspired by…
being better every single day. I am always pushing myself to be better in all areas of my life.
The one person who motivates me most…
is my mama! She is so supportive and encouraging that it constantly amazes me.
If I could change anything in the world…
I would eliminate hate. There are so many.
The perfect day for me would be…
waking up and having coffee on my balcony, then going to practice for a little while out at the course. Then have lunch and play eighteen holes of golf and then going to a Mexican restaurant for dinner!
My first job…
was an ice cream scooper at Baskin Robbins in high school. That is where and how I found out that dairy makes me break out…so worth it though!
My favorite escape…
is in a good mystery book.
My life…
is a freaking adventure! I think I have such a fun life, I can't imagine doing anything else besides chasing my dream.
I'm currently working on…
being the best version of myself every single day. I want to be an amazing golfer, an amazing friend, an amazing sister, etc. I am trying to make myself and my family proud.
Always…
take the opportunities you are presented with, even if it's out of your comfort zone.
Never…
underestimate your own courage.
Favorite quote…
"A grateful heart is a magnet for miracles". The more grateful you are for what you have, the more amazing things will start to fall into place for you. I am a firm believer in this!
My biggest dream…
is to play on the LPGA tour and inspire other women to chase their dreams.
My pet peeve…
someone chewing their food too loud.