We are all familiar with those Febreze commercials where a joyous mom is skipping around her home and spritzing everything  in sight with the scent neutralizer. I, myself, have never quite acquired a liking for manufactured home scents or the plug-in contraptions that are suppose to keep your abode's aroma pleasant.  A new collection called the Febreze Home Collection seems to have tapped into a market of non-believers like myself. Boasting more modern appeal as well as clean lines and simple fragrances, the new Febreze Home Collection might make visitors hard pressed to believe that you bought the product from your local grocery store.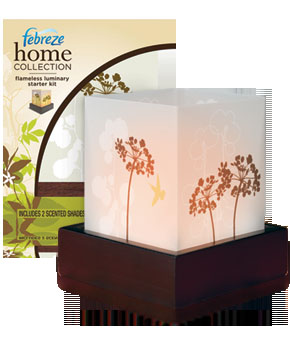 Freshness meets style with the recent launch of Febreze Home Collection, the leading home freshening brand's first contemporary-scented and styled home decor line. Through this new collection of boutique scents and modern design, Febreze will help home decor lovers connect, entertain or escape in their homes with the style and delightful scents consumers have come to expect from the brand.
"The Febreze Home Collection provides an extra touch of personal style by offering a variety of patterns, textures, and colors in innovative products," said Amanda Teder, Febreze brand manager. "The new line is a modern home decor twist that expands the high-quality scent experience Febreze is known for to offer a versatile take on home design."
The companys says that years of Febreze research has revealed a consumer need for a design-focused line at mass retail. While the tumultuous economy does not always allow for home luxuries and extravagancies, the Febreze Home Collection offers small accents that can easily enhance the ambiance and decor of a special place.
Febreze Home Collection offers an entirely new scented product to mass retail: the Febreze Flameless Luminary. Febreze Flameless Luminaries are more than a flameless candle, providing scent and ambient light to accent any room in the home through a variety of scented shade styles. The shades styles, complemented by authentic fragrances such as Pomegranate Mango and Green Tea Citrus, are simply placed onto a wooden base to activate a flickering, flameless glow and diffuse scents in the air. Seasonal offerings include Cranberry Pear, Caramel Crisp, Orchard Cider and Vanilla Frost, each of which creates a festive, versatile ambience that can change to match any mood, moment or style.
In addition to Flameless Luminaries, the Febreze Home Collection offers three other stylish products:
Febreze Scented Reed Diffusers – Packaged in a sleek glass bottle, slim, rattan reeds absorb oils and diffuse fragrances in the air.
Febreze Soy Blend Candles – The first soy blend candle by Febreze, encased in glass with a dark bamboo base. Febreze Room Sprays – A handy-sized aerosol that boasts vibrantly-colored designs to match specially-designed scents for a mood enhancing scent experience.
The Febreze Home Collection is available at food, drug and mass retailers with suggested prices ranging from $4.99 to $14.99. To learn more about the product, visit www.febreze.com.