Like the look of funky tattoos, but just not your style to have one on your upper arm or behind?
Well, what about if they weren't permanent?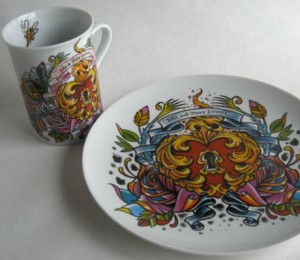 No one loves this tattoo trend without the commitment more than tabletop designer, Jessica Rust of Jessica Rust Designs. She recently launched a Tattoo Collection of tattoo-inspired personalized plates, mugs, dessert plates, platters and more with the help of her shipping guy, Michael Mellstrom who doubles as a tattoo artist. With designs that are so delicate and appealing you could have them tattooed on your skin, Jessica Rust Designs has created a collection of tattoo-inspired plates and mugs too good to eat off.
The design on the dishware resembles traditional heart with a lock tattoos. Imagine drinking a cup of coffee out of an inked mug at your coffee table – thats one way to add a little color and pizazz to your morning coffee.
Jessica Rust is a graduate from the Parsons School of Design and has worked for Jonathan Adler, Tracy Porter, and once served as the Master Crafts Person for the Museum of Metropolitan Art in New York.
$160 for a set of 4 Dessert Plates and Mugs
$98 for a set of 4 Dessert Plates
$72 for a set of 4 Mugs
To see more funky designs, visit www.rustdesigns.com.