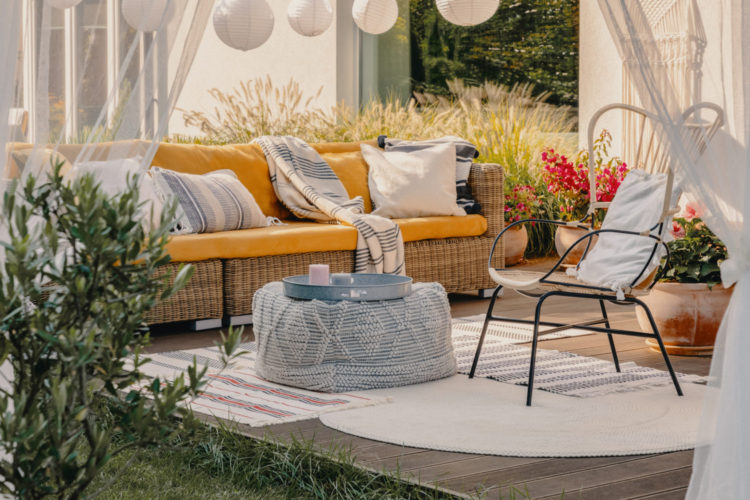 By Susan Solliday, President of Arizona North chapter of American Society of Interior Designers
We've all seen it. A photograph of a beautiful rug, artfully blending an outdoor space with neighboring garden color. Or the happy family enjoying dinner alfresco with wood floors extending indoors and out. Beautiful. Elegant. Inviting.
As interior design trends make their way outdoors, expect to see the shapes and patterns of outdoor design mimic interior trends, bringing a seamless flow of materials. We are seeing this in almost every detail, from flooring, to furniture design, to lighting. It's all part of the effort to truly live in our outdoor spaces with the same comfort, style and ease with which we enjoy our indoor spaces.
The work horse of any space are flooring surfaces that transcend to outdoor spaces as well. Arizona residents have a passion for stone and brick. Why not? Its slip-resistant, durable, plentiful, and looks fabulous. New geometric shapes like hexagons and trapezoids are making a fun statement in paver shapes as well as faux rug paver patterns.
Large format shapes have headed outside. For the same reasons that porcelain is a good choice for your interiors, it can also be a great choice for outdoor entertaining areas. With wood, a top indoor pick, homeowners can enjoy a seamless look with the porcelain plank patterns. Other "lookalikes" include limestone, marble, cement, and terrazzo. Less expensive and so realistic thanks to advancements in laser printing techniques, it's getting quite difficult to tell the real deal from the faux.
Porcelains are not only realistic and beautiful, but inherently tough. Able to handle our strong UV rays, requiring relatively little maintenance, and harder and impervious to moisture, porcelain tiles won't crack during that occasional freeze. With anti-slip resistance qualities, a must poolside, porcelains with an abrasive glaze add significant traction.
Popping up Valley-side is the sentiment for low maintenance and being green. The secret is out! Artificial grass is changing how many homeowners are maintaining a beautiful green yard without overspending on fertilizers, professional services, and constant upkeep. Enjoy a beautiful, green lawn for your children and pets to play on while ditching the work.
Green isn't the only pick for outdoor entertaining. Define your outdoor space and add decorative warmth with an outdoor rug. Nothing says comfort like enjoying a cushy rug under your bare feet or to protect toasty toes. Outdoor rugs have the bonus of providing a barrier against dirt and insects and add a pop of color or texture to your outdoor oasis. They are a great way to tie in geometric shapes and patterns dominating our interiors.
In the spring, many homeowners struggle with choosing outdoor flooring options and take advantage of the Interior Designer for Hire program, where we offer one-on-one consultations. Our experienced ASID designers remind their clients that everything is relative. Some materials are more durable than others but expect to be replacing your rugs and textiles once every couple of years if exposed to the elements. If you can manage to keep them in a protected area or covered, you can expect greater longevity.
Everything you need to know about an outdoor rug should be on the label.
Natural fibers such as sisal, hemp, jute, and seagrass are very strong, sound-absorbent, sustainable, and add lots of texture to your space. The dyes will fade relatively quickly, and the fibers will eventually succumb to the UV rays, but until then, they add texture and cushion.
Synthetic fibers like polypropylene (olefin), acrylic, polyester or PET, come in a wider range of colors and can be easily maintained. Look for UV treated products to withstand our intense sun for more durability.
Whatever you select, for your hard surfaces or rugs, the best way to care for your outdoor investments are to hose it off and enjoy frequently.