When conceptualizing the idea of art rugs, I wanted to be bold, unapologetic and tasteful yet showcase talent and skill from both the artists and the weavers. There was a fine balance that needed to be reached, whereby the art rugs had push the preconceived notion of what is creatively possible and technically executable.

Here are five of my notable rugs and a brief explanation of why they stand out to me. Picking favorites out of the collection is one the hardest choices I am asked to make, as all of the rugs are very unique and special in their own way. In essence, they are a homage to the designing artist.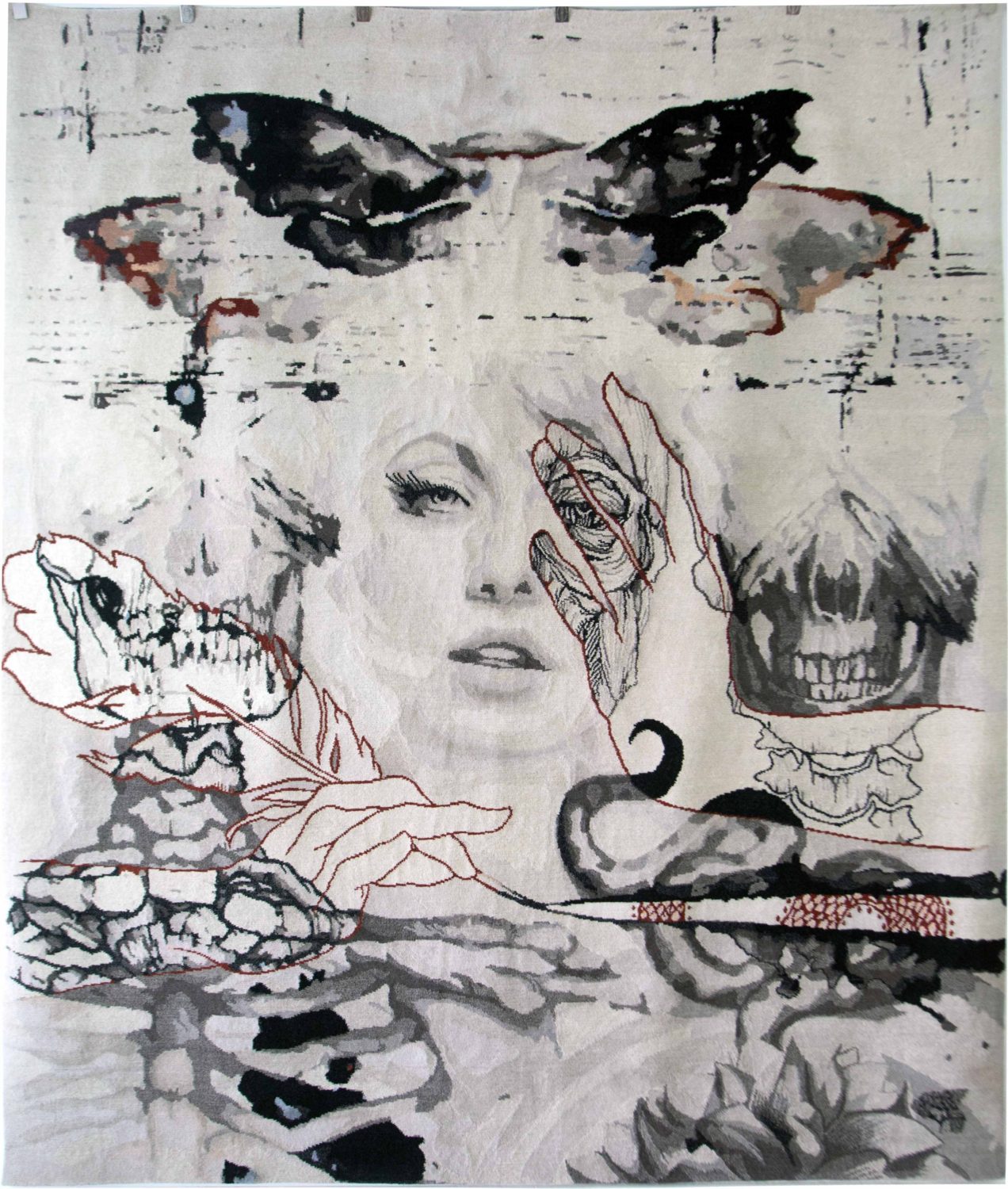 DIFFUSE by Dan Quintana (8'9" x 8'9")
First and foremost, Dan is an amazing painter. He has achieved at his relatively young age, a voice and touch of an Old World master. Dan's work is classic in style and contemporary in theme. For Diffuse, the challenge of weaving, knot-by-knot, a photo realistic face has not been, at least to my understanding,
executed before. The way the wools are dyed prior to weaving, posed a challenge as the hue in the art rug's face and surrounding areas, composing of creams, off-whites, taupes, and beiges were very difficult to decipher and differentiate during the weaving process. Unlike other handwoven rugs of this size, which take about four months to weave, Diffuse took seven months. Diffuse is a bold rug with a highly stylized presence. Like most of my rugs, Diffuse is for a progressive art lover. The value of the very rare Diffuse rug goes up over time as Dan Quintana's pedigree continues to climb. You will not see another rug like Diffuse, especially pre-dating our work.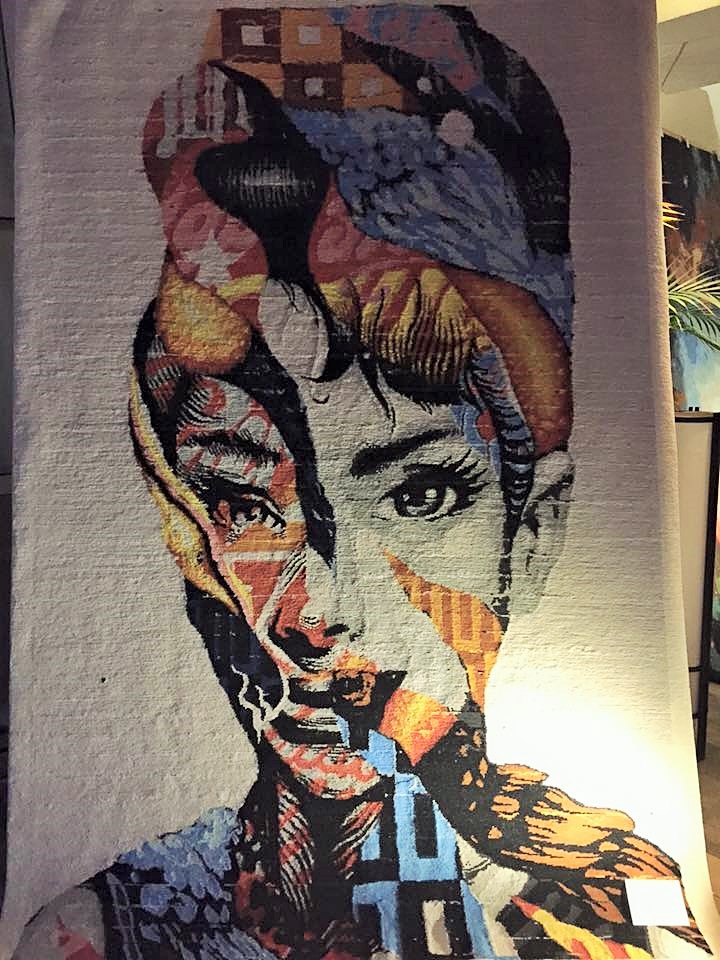 AUDREY by Tristan Eaton (9'x6')
In the last few years this image of Audrey Hepburn by Tristan Eaton has become iconic. My reason for including Audrey on my list is partly due to the rug, but also, and maybe more so to do with the artist, Tristan Eaton. I am discerning in my selection of artists I collaborate with, and Tristan has been a meteor, climbing beyond the limits of comprehension, while remaining humble and grounded. If you are not familiar with any of the artists I mention, I urge you to look for their work, especially Tristan Eaton. Tristan has created a signature style that is impossible to mistake. His ability to work on large scale murals and manageable canvases has proven his mastery of his skill. It is an honor to work with Tristan. It's a rarer privilege to own one of his body of works. Our Audrey rug is unlike anything out in the marketplace. Not just in design, but in its affiliation to the artist. I half-jokingly say the artists I work with are the future Harings, Basquiats, Warhols. Urban contemporary luminaries of our day.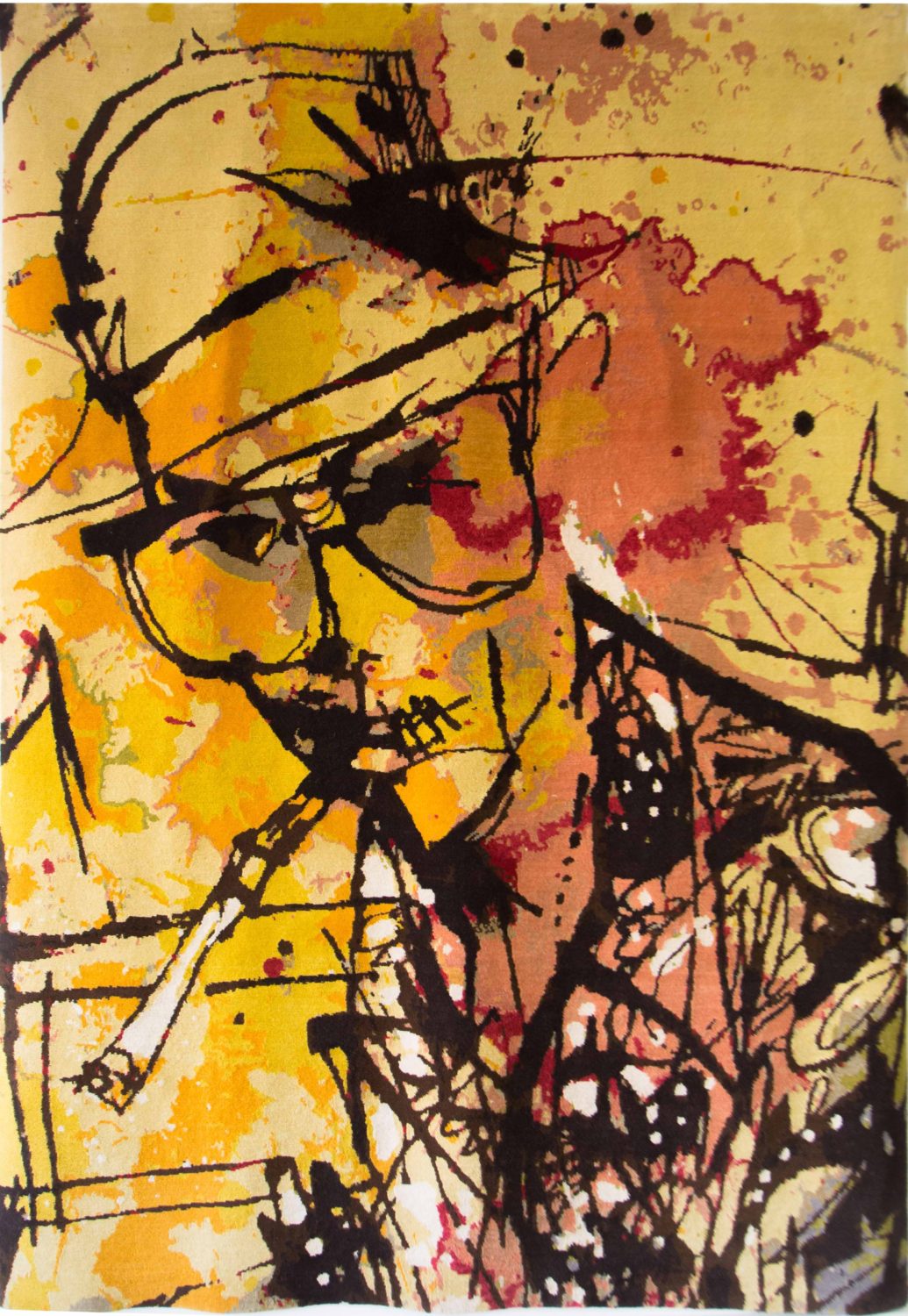 FEAR AND LOATHING by Jim Mahfood (9'x6')
I met Jim nearly 16 years ago in San Diego, long before I had the dream of making art rugs. Jim was an illustrator from Los Angeles that would do live paintings at the Honeybee Hive in San Diego maybe once or twice a year. I liked Jim's style of art and his willingness to support his friends' events. Nearly eight years after initially meeting Jim, I approached him to design an art rug with me. Jim produced a portrait of Hunter S. Thompson, in Johnny Depp's character in Fear and Loathing in Las Vegas. This rug (like all of my rugs) is 100-percent handmade and limited in edition. What is very special about this rug was capturing the watercolor effect of the original art piece. This art rug holds a very dear place in my heart. It is a piece I want to share. If you know the story of Hunter S. Thompson and especially his life's end, you will see a very subtle but macabre reference. It is the little nuanced gestures that makes a piece art visceral and amazing. When I began collecting art many years ago, a gallerist in Montreal told me, "if the art does not move you, do not buy it."  Fear and Loathing is evocative to say the least.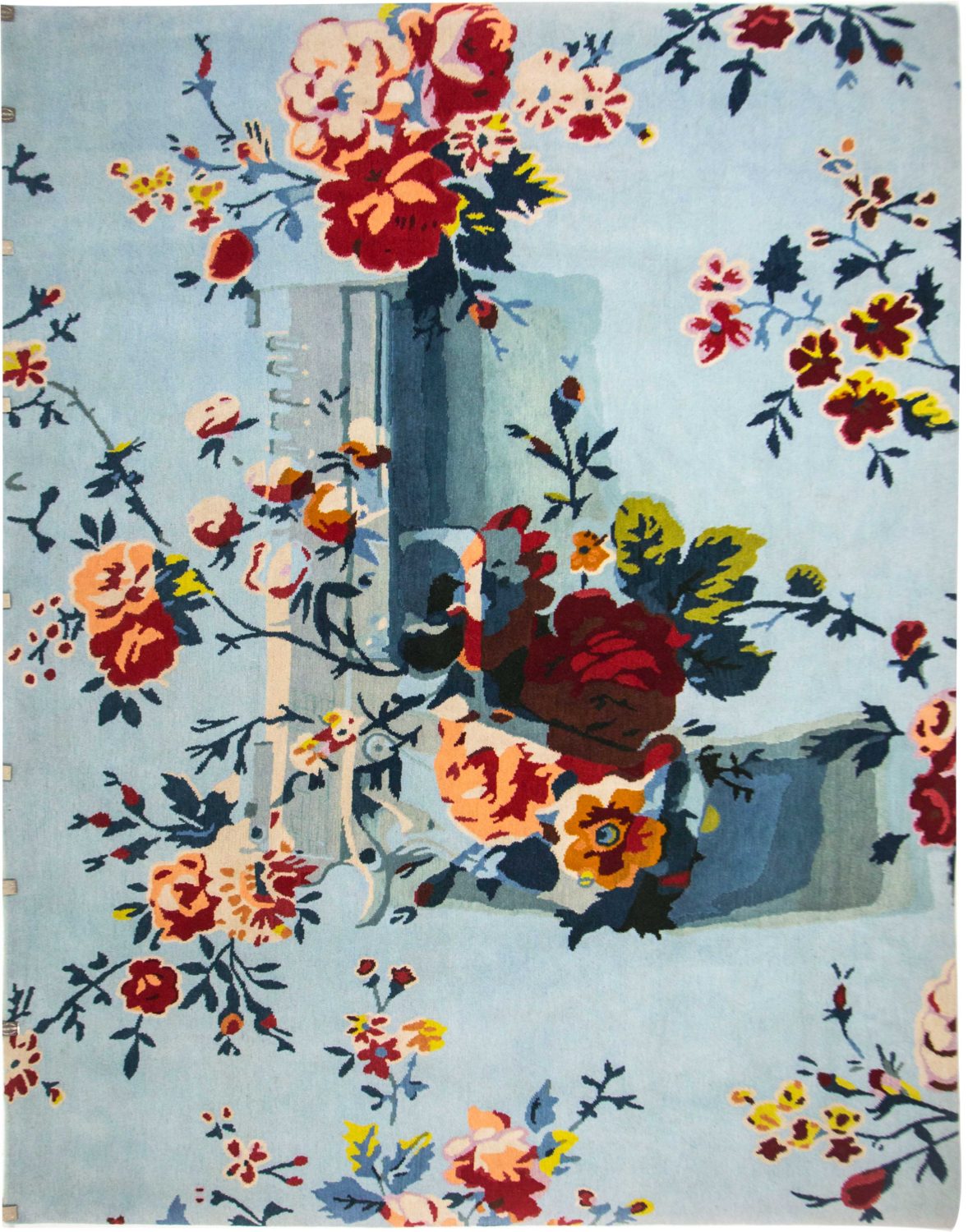 FLOWER POWER by Katsuya Sugimoto (9'x7')
When scouring the creative outlets for potential art rug collaborators, I stumbled on Katsuya Sugimoto's hyper-real artwork. Katsuya's ability to paint true-to-life objects is unparalleled by most urban contemporary artists. When I approached Katsuya's management for a collaboration, it was an exciting challenge for us because we tested and pushed our weaving limits and abilities. Honestly, there is not much else I want to say about Flower Power and Katsuya other than he's an amazing artist, and we created a really cool rug! At first glance, Flower Power looks so out of place and aged compared to our other rugs, as if it's from a late 1970's heirloom that no one wants ownership of. But on further inspection, there is a tongue-in-cheek element hidden in the weaves. This is definitely not your grandmother's rug.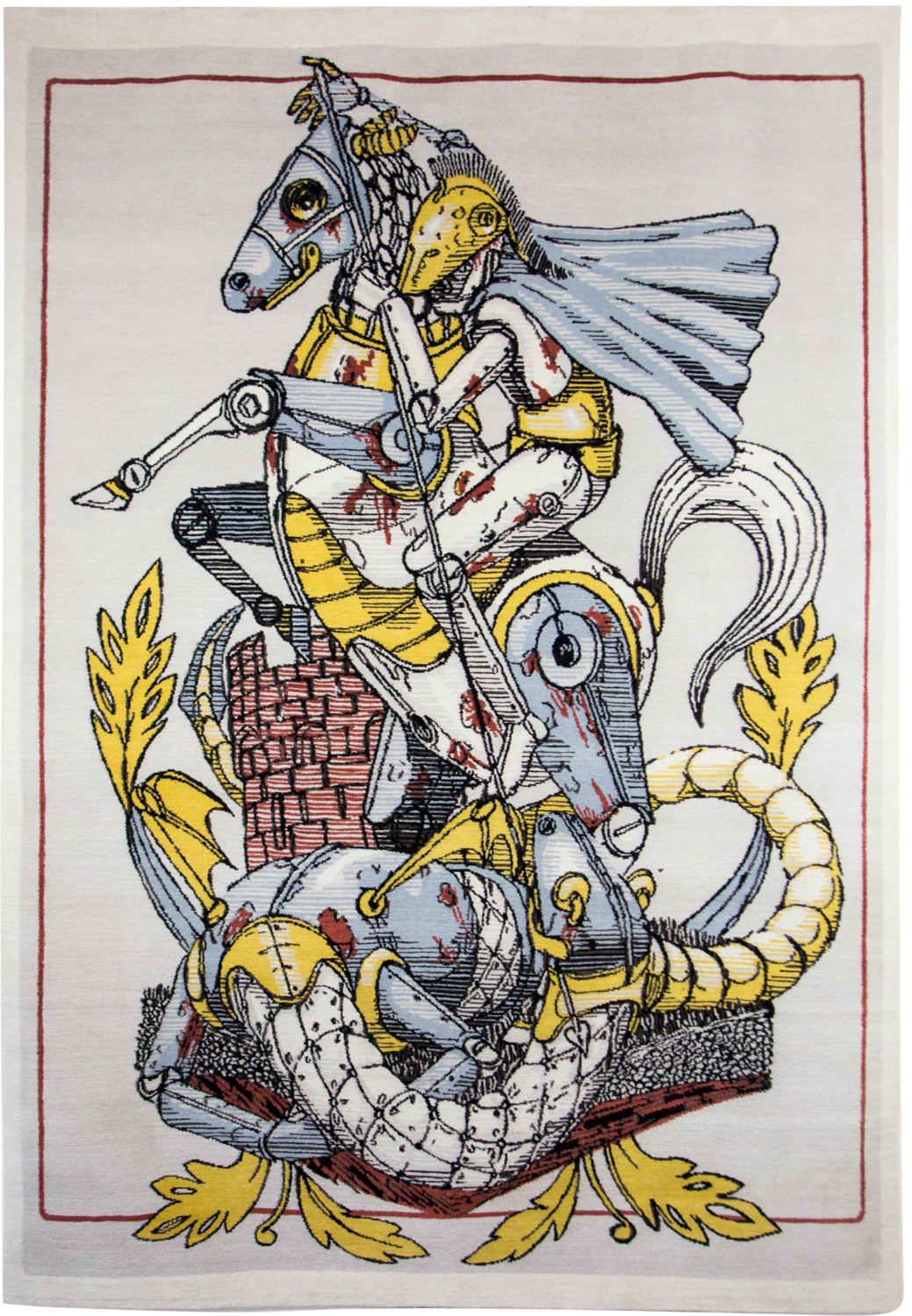 ST. GEORGE by Pixel Pancho (9'x6')
Hailing from Turin Italy, Pixel has developed a whimsical, detailed style that incorporates robot-human hybrids that are more human than robot. Coming from a creative family (his grandfather was a painter), Pixel pursued art in school. With his right knowledge of history and hailing from Europe, Pixel brings another level of depth to his works. On the surface, his artwork is playful and storybook-like; however, there is depth in his story telling. I am very fond of St. George for personal reasons and because of his artistic nuances. For instance, I appreciate that the slain dragon and St. George's lance fall outside of the red border. I like that the dying, armor clad dragon is tufted. Before his passing, he put on a great fight. You can see the blood on St. George and his battle horse. The imagery is beautiful, the depth in storytelling is what I love. A little history, St. George was a soldier who would not recant his religion. For it, he was sentenced to death. St George was the most venerated of saints, especially as the Military Saint. When I contacted Pixel Pancho for a collaboration, I did so from a military base in Afghanistan. I was deployed with the US military. This rug was his personal gesture to armed forces and is a very special piece for art collectors and historians alike.
–Jacob Rahman, founder and CEO of Soho Design House