I love a good scented candle, but I always seem to forget to light them. And then when I do light them, my my dumb dog tries to eat the flame, which makes the soothing scents, not at all soothing anymore when I am worried that Teddy is going to catch on fire.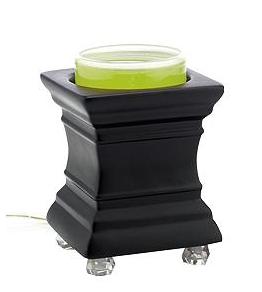 But we got this new product from Gold Canyon sent to us in the mail and it solves all my scented candle needs, without the burning flame. And no, its not an ugly Glade Plugin.
The Pod Warmer from Gold Canyon plugs into an electrical outlet, but looks more like a decorative home accessory, especially the Footed Square Pod Warmer in black, ($30) with its cute crystal faceted feet. So you plug it in, and place a Scent Pod on top and the warmer heats up the scent, which infuses the home with lovely fragrance. There are dozens and dozens of scent pods ($6) to choose from, and each lasts up to 20 hours.
And speaking of time, the best thing about the Pod Warmer is that you can set it to automatically shut off after 4, 8 or 12 hours, so if you happen to fall asleep or forget to turn it off, you'll be totally safe.
My favorite scents? Clean Sheets and Pomegranate, though I'm excited to try some more like Autumn Walk, Jasmine or White Sage & Rose Noir. Mmmmmmm…..
Get your own Pod Warmer or other scented candle creations at www.goldcanyon.com..