Gallery walls have been filling Instagram and Pinterest feeds for months. They are one of my absolute favorite home décor trends as of late. I'm currently trying to collect enough pieces to create my own gallery wall, and I have spent hours looking to social media for inspiration. Here are some awesome gallery wall ideas that I have come across throughout my search.
Color Palette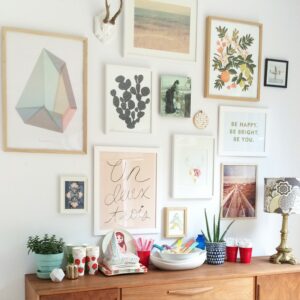 One thing I think makes a well put together yet unique gallery wall is staying within the same color family. This makes your pieces not all look so uniform, but enhances the overall unity, regardless of the variety of shapes or sizes of the elements on the wall.
Interesting Pieces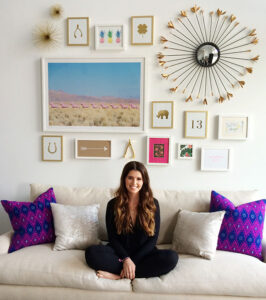 Just because it's a "gallery wall" does not mean that everything has to be framed photos. Think outside the box and search for unique, eye-catching pieces to add depth to your wall. I love what Katherine Schwarzenegger did in this Lulu & Georgia feature with the starbursts on the wall.
Overstuffed Ledges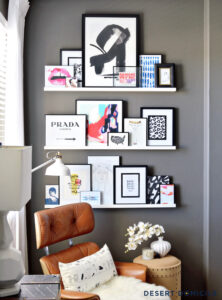 As an alternative to the classic gallery wall, I came across this gorgeous overstuffed picture ledge arrangement by Desert Domicile. I love the use of fashion images, abstract artwork and drawings here. By using ledges rather than hanging pieces on the wall, you could even throw in a few of your favorite knick-knacks on the shelf as well.
Overall, you should have fun while designing your own gallery wall and use yours to express your interests and personality.
What are your favorite gallery wall ideas? Let me know in the comments or tweet @AZFoothillsMag!