As is true for the ever-popular gallery wall that I wrote about last week, coffee table styling has gotten more and more trendy in the past few years. Arranging your coffee table is a fun way to show off pieces that represent you, and add a personal, yet beautiful touch to your home. Here are some essentials to look for when shopping for your coffee table décor.
Books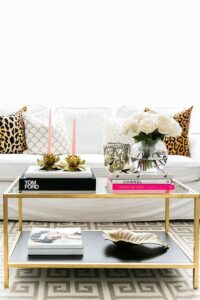 One of the main staples of the "ultra-Instagrammable" coffee table is an assortment of stacked books. Display some of your favorite books, or pick out some new ones that are related to a topic that interests you. Large, hardback books in a range of sizes stack well and draw attention to the surrounding décor. This collection of fashion books by Decor Pad is the perfect coffee table arrangement.
Tray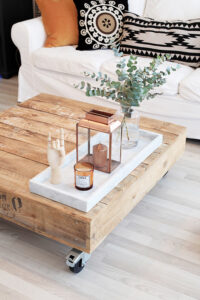 Next to your stack of books, set a decorative tray as the placeholder for the rest of your coffee table décor. Choose something delicate and neutral-colored, mirrored or even brightly colored for a pop of color to accent your other pieces on the table. Being a lover of all things marble, I would love to get my hands on this tray that Boho Deco Chic used for her table.
Candle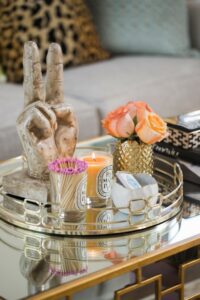 Choose a candle in a scent that you love to burn on your coffee table. I love how many options there are for candle scents, jars and colors. You can even switch your candle (or candles!) out seasonally for different scents and colors to change up your usual décor. This arrangement by Chronicles of Frivolity is awesome since she uses the matches as an additional design element for her table.
Vase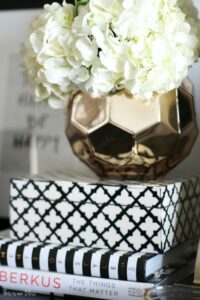 A pretty vase is the perfect addition to any coffee table, especially when it is filled with fresh flowers. Having flowers instantly brightens up a room and draws attention, so your coffee table wouldn't be complete without a pretty vase to fill. This gorgeous gold faceted vase that This is our Bliss used is incredibly eye-catching and chic.
Decorative Pieces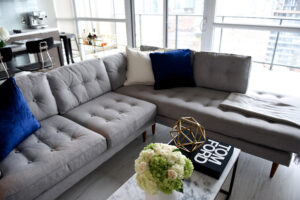 The most fun part of decorating your coffee table definitely will be adding on some decorative pieces. Choose little knick-knacks that you love, or that represents who you are. These can range from something quirky, to a souvenir from your favorite travel destination, to a sculpture and more. I love this little geometric sphere featured on the West Elm blog. You can choose several little objects to personalize your table; there are no limits!
There are so many ways to decorate and personalize a coffee table in your home, and this is just my take on it! Choose décor that fits your home and represents you and your family. Most importantly, have fun with it.
Have any coffee table decorating tips? Let me know in the comments or tweet @AZFoothillsMag!