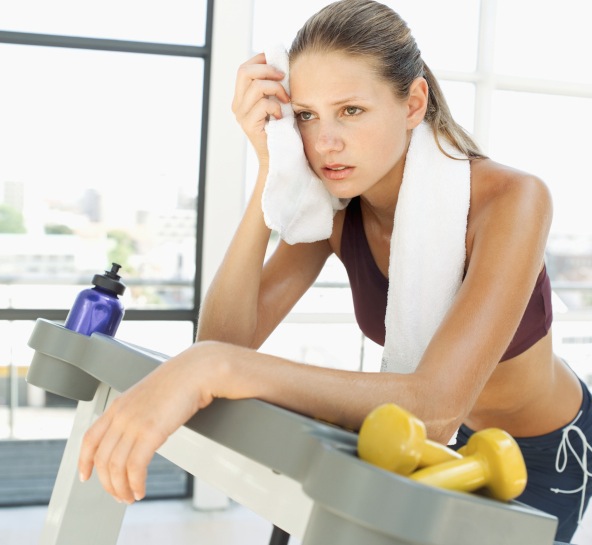 A couple weeks ago I did 3 fitness classes in one day… and lived to blog about it (click here). By the third class, my legs were like spaghetti, I could barely push out one pushup and my brain had already thrown in the towel. That night I had the best sleep of my life, but the morning after wasn't pretty: every muscle hurt, a few I didn't even know I had. This got me thinking: Is it okay to workout out multiple times in one day? For the answer, I went to Steve Grisham, Fitness Director with Core Concepts Personal Training at Mountainside Fitness Pavilions. Steve got into the Health & Fitness industry shortly after becoming a Firefighter in his hometown of Modesto, CA. Tired of seeing the declining health of so many people, he decided he wanted to make as much of a positive impact on humanity as possible and figured, what a better way than to start with someone's health. The 31-year-old Exercise Science major is well on his way: he's worked in the health & fitness industry now over 12 years as a Certified Personal Trainer, helping hundreds improve their health.
Trainer Q&A: Steve Grisham, Personal Trainer with Core Concepts Personal Training at Mountainside Fitness
 Q: Is it OK to work out twice in one day?
A: The answer is yes, but in order to answer this question correctly, we must first cover some ground rules to prevent what is known as Overtraining Syndrome, which frequently occurs in athletes who are training for a specific event and train beyond the body's ability to recover. Athletes often exercise longer and harder so they can improve. But without adequate rest and recovery, these training regimens can backfire, and actually decrease performance – and worse yet, cause the body harm. With that being said, there are still many benefits from this type of program design: shorter more intense workouts done multiple times in one day allow our bodies to burn more total calories, creating a greater caloric deficit along with two metabolic boosts instead of one. It's also a great way to bust through plateaus.
Ok, now let's talk about some important ground rules to follow. First, you must make sure your workouts are at least 6 hours apart, which will allow your body to recover from the initial workout. Secondly, you will want to start with a light cardio warm-up for 5-10 minutes, which will speed up the removal of Lactic Acid and other metabolic by-products. Third, ramp up the frequency, intensity and duration carefully since small steps will help prevent overtraining. You want to make sure a proper nutritional program is in place to meet increased caloric expenditure. Finally, allow muscle groups 48-72 hours of recovery before being worked again.