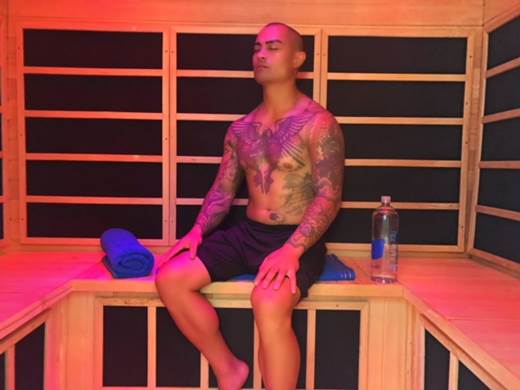 Infrared heat is very gentle. The experience is similar to lying in the sun on a warm day and feeling the heat radiate to the core of your body. Unlike traditional (hot rock or steam) saunas–which operate at well in excess of 200°F–infrared heat has the benefit of being effective at a more comfortable operating temperature of 100°-150°F.
Traditional saunas heat the air vs. the body directly. Rather than inducing detoxification and relaxation, this can make the experience unbearably hot and difficult to breathe. Because infrared heat penetrates human tissue vs. simply heating the surface of the skin, infrared saunas are seven times more effective than traditional saunas at detoxifying the body.
We just built a custom HealthShift sauna that is quite simply the very best on the market (as far as infrared saunas go).
We would love for you to come in to try out our new sauna free for the first 200 people who respond to this article. You will have until Sept. 30, 2018 to come in and try it for yourself. Our sauna can comfortably seat up to six people, so feel free to bring your family and friends for your scheduled sauna session. Towels are provided. Please wear proper attire (swimsuit or minimal clothing) to enhance the infrared benefits (penetrates two-four mm into the skin).
Our HealthShift sauna is proudly located inside of U.S. Cryotherapy off the 101 N. and Raintree exit.
Web: www.healthshift.com
E-mail: info@healthshift.com
About Sam Colby
Fitness leader Sam Colby specializes in exercise and post-rehab conditioning. His work experience and education have all been directed towards being the best in this field. As a personal trainer at highly regarded gyms like 24 Hour Fitness and Gold's Gym, across three states, he learned from the best. At the same time, he earned a Bachelor of Science Degree, undertook a Doctor of Podiatry program, and did general course work at Brigham Young University and elsewhere. Colby added Certifications like Emergency Medical Technician to his formal education. He also embarked on the study of nutrition. Serving eight years in the U.S. Coast Guard Reserves imparted discipline and leadership skills. He invented the revolutionary CorePump Machine, which can replace an entire gym for the purposes of sports performance, rehab and general fitness. He believes that seniors can become healthier and more functional every year they age by using a CorePump program.
Follow him on IG: @traditionalnaturopath