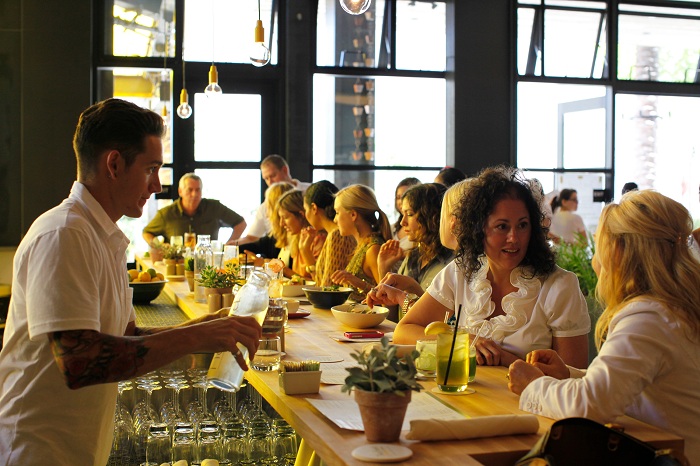 I have a confession to make: I'm a bit of a cookbook addict. My bookshelf is crammed with colorful food bibles boasting every kind of recipe, from homemade soda to pickles. The common thread: most of them are healthy.
I have another confession: I've secretly been counting down the days until the True Food cookbook came out. True Food Kitchen is my favorite post-yoga Sunday brunch spot where you'll often find me at the bar wolfing down their Breakfast Burrito (to-die-for!)—and I desperately wanted to recreate their recipes at home.
So when I finally got my hands on the cookbook, I savored it slowly, devouring each and every page of food porn. Yes, it's pretty, filled with scrumptious photography that jumps off the page, but it's also healthy. The recipes, like the restaurant, are based on the principles of Dr. Andrew Weil's anti-inflammatory diet (yep, the guy with the crazy beard). And it's not all tofu and sprouts. There's Quinoa Johnnycakes, Fava Bean Bruschetta, Chicken Dumplings, Miso-Marinated Black Cod, Turkey Bolognese, Lemon-Ginger Frozen Yogurt and Chocolate Banana Tart. Hungry yet?
Now, I have to admit that part of me was reluctant to actually make any of the recipes. I'm so in love with the restaurant and the cookbook certainly looked good on paper, but just like I don't want to ever meet John Hamm in real life, I was afraid it wouldn't live up to my expectations. I was right and wrong. My first foray was a big flop. The Antioxidant Berry-Walnut Muffins were flavorless and blah. But the Weekend Warrior smoothie was a hit; ditto for the Medicine Man, an elixir that combines tea and fancy juices. Another bonus: the recipes are pretty uncomplicated for fancy restaurant fair, and for the most part you'll have ingredients handy… okay, maybe not sea buckthorn juice or bison meat, but you get my drift.
My biggest complaint: No recipe for my beloved Breakfast Burrito—but at least that gives me an excuse to continue my Sunday tradition.