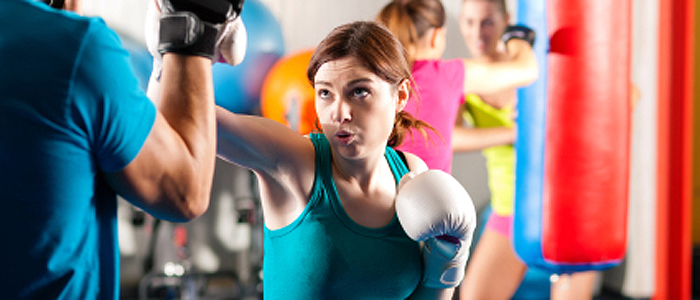 Photo Courtesy of: East Valley Krav Maga
In the fitness community, there is a growing need to change up fitness routines and find new ways of making working out fun and enjoyable for everyone instead of it being another mundane tasks on your daily "To-Do" list.
East Valley Krav Maga  has expanded to a larger studio and will offer new classes that combines unique styles of fitness training while teaching techniques of self-defense that are designed to help prepare you for any situation where you might need to defend yourself while providing a great workout burn.
There move comes after four years in business in the greater Phoenix area to help accommodate their growing membership while providing larger class size for its members.
"Krav Maga has been around since the 1930's, but people are just now starting to learn of it as self-defense becomes more of a priority, and as they see many celebrities use it for training purposes," said Derrek Hofrichter, founder and chief instructor of East Valley Krav Maga.
The new Tempe studio now offers kickboxing as one of their cardio workout as well as a lineup of different levels of Krav Maga classes that focus on the Krav Maga style of self defense.
The classes range from basic levels which teach striking fundamentals, low level attacks and how to make your body a weapon and are offered in all levels of training from basic to intermediate levels of striking and attacks. Upper level classes are also available.
Youth classes are also available from ages seven and up. These classes teach self defense, confidence, anti-bullying and discipline.
According to the Arizona Department of Public Safety, there were 15,009 cases of aggravated assault reported in 2014. The report highlights the use of physical weapons, such as hands, fists and feet, as the most commonly used weapon over firearms. This highlights the need for East Valley Krav Maga to expand as they see a growing need to self defense classes to accommodate their growing membership levels.
Krav Maga was formed by the Israeli military in the 1930s as a self defense system by combining techniques of aikido, boxing, judo, wrestling and street fighting. These techniques have been widely popular among celebrities like Jennifer Garner and Angelina Jolie while training for action films and television series.
Krav Maga has now been practiced as a form of physical fitness and self-defense regimen.
For more information on East Valley Krav Maga, visit www.EastValleyKravMaga.com or call 480.535.7087.