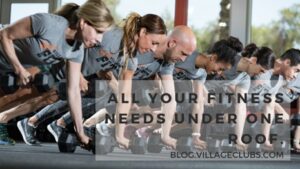 Have you noticed how niche the fitness industry is? There's a special studio or facility for just about any type of fitness activity you can imagine. These studio clubs are specializing in cycle, hot yoga, yoga, TRX, bootcamp, barre, Pilates, heart-rate based workouts like HIIT, and more with the list continuing to grow. If you want to participate in a variety of group fitness classes in order to cross train you'll need to pay for separate memberships at each studio – and those costs add up.
Why Your Workout Routine Needs Cross Training
Chances are you may pop over to the gym only to sit on an indoor stationary bike, then go to your office and sit at your desk, then sit in your car to drive home, and sit at the dinner table, and sit to relax from all the sitting… do you see a pattern? Your body isn't moving in optimal ways through most of your day. There is little happening to flex and extend the spine or to strengthen your core and back.
How to Cross Train Under One Roof
What do you get if you take the cycle and spin, TRX, hot yoga, yoga, barre and Pilates studios and put them all under one roof? You get the Village Health Clubs & Spas. With our recent expansion at Gainey Village Health Club & Spa, we now offer six boutique-style group fitness studios, in addition to our small group training center and a pool, all under one roof. There truly is a group fitness class for every type of fitness enthusiast, from the beginner to the athlete and from kids to active older adults.
What Classes Are Available
Hot Yoga Studio: Enjoy a variety of classes, from our Village Hot yoga which has a set sequence, to warm flow or heated yoga sculpt with weights.
Yoga Studio: The unheated yoga studio has classes covering many yoga modalities including Yoga flow, Kundalini, Yin, Basic, Power, Restorative, Yoga Nidra meditation in addition to Tai Chi, Deep Stretch, Healthy Back, and Mat Pilates classes.
Fitness Studios: The fitness studios host classes such as Zumba, cardio muscle, HIIT, bootcamp, Mixxedfit, Upper Body Blast, Rear Attitude, Buff, and total body conditioning classes like TRX suspension training, TRX Rip Trainer, Kinesis, and Barre.
Group Reformer Studio: The studio hosts Pilates Reformer group classes, Chair, and ReBarre group fitness formats.
Cycle Studio: Our cycle spin studio offers 45 and 60 minute MYZONE heart rate-based cycle classes.
Small Group Training Center: The classes available are CrossFit, 6 Station Training, Medicine Ball, Kettlebell Conditioning, and Fit classes.
At the Village, you don't have to decide between quality and quantity. With state-of-the-art equipment, cutting-edge technology, high class personal trainers and the best instructors in the Valley, you are bound to find the perfect group fitness class no matter where you are in your fitness journey.
In addition to the numerous group fitness classes offered at each of our Village Health Club & Spa locations, we have premier cardio and weight equipment, full service Spas, Cafés and much more. Contact our membership department for a VIP Trial Membership and to schedule a tour of one of our clubs.