By Lia Pulver, Fitness Director at Camelback Village Health Club  & Spa
Here are five simple tips to build a custom workout plan that works for you.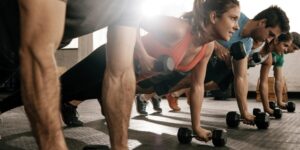 Morning vs. Evening Workouts
Morning exercise kick-starts your metabolism and helps burn more calories throughout the day, but there are also benefits to a working out later in the day – you're already warmed up, more flexible, and less prone to injury. The most important aspect is picking a time that works with your schedule and then stick with it.
Up Close and Personal
Feeling intimidated, or don't know where to start? A personal trainer can help craft an exercise routine suited to your level, abilities and time frame, then track your progress with MyFitnessPal, an online resource that lets you journal food intake, exercise output, and more.
It's a Marathon – Not a Sprint
Remember, it's a marathon – not a sprint. Set realistic and attainable goals and over time you'll begin to see your hard work pay off – without pain or injury.
Get Your Group On
Group exercise is a great way to stay consistent because it's fun, social, and physically rewarding to be part of supportive, like-minded team. But remember the #1 rule about participating in group exercise is, don't compare yourself to others.
The Big Pay Back
Committing to exercising, making the time, and showing up is hard work, but making an investment in your health is priceless. Reward yourself by investing in workout clothes that make you feel good and keep you motivated. What a great way to show off all of your hard work.