Sun Devil Athletics and the Sun Devil Young Professionals is set to host the first-ever Devils' Ball in celebration of a successful 2013-2014 season.  This bash will take place at Clayton on the Park in Old Town Scottsdale on Friday, May 30 from 7 p.m to 11 p.m.
The Sun Devil Young Professionals Group expects this event to become an annual end-of-the-year celebration and a must-attend for Sun Devil fans.  "Our goal is to create a marquee event each May that Sun Devil fans can anticipate attending for years to come," Greg Derr, Devils' Ball Chairman, said. 
The event gives Sun Devil fans the chance to celebrate with other equally dedicated fans and reminisce on great moments from this most-recent season, including Jordan Bachynski's epic last-second block in overtime which helped the Sun Devil's defeat No. 2 Arizona and claim the Pac-12 South Title.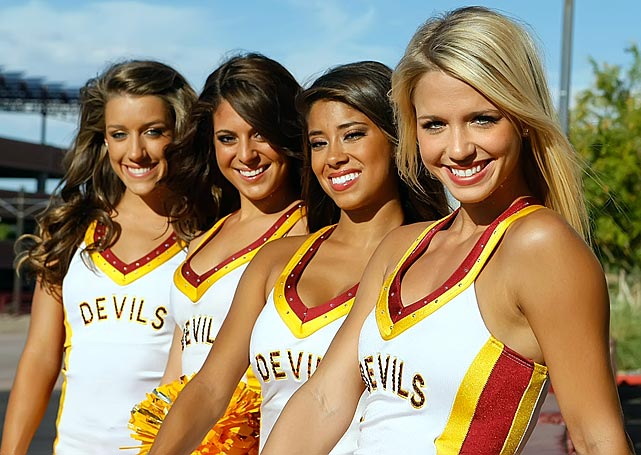 Featured above are some members of the Sun Devils Dance Team
Guests will experience an exclusive red-carpet event, with entertainment from a live DJ, along with appearances by Sun Devil football head coach Todd Graham and other current Sun Devil coaches, Vice President for University Athletics Ray Anderson, former athletes and Sun Devil Athletics administrators. The event will also include appearances by the ASU Dance Team and a photo-booth opporunity with Sparky.  Guests can mingle with these noteworthy Sun Devil enthusiasts and fellow fans while enjoying a selection of tasty appetizers and sipping on a signature cocktail from the cocktail bar. 
The Ball's tickets are priced at $100 for Sun Devil Club members and $125 for non-members.  All proceeds will benefit the Sun Devil Club, the fundraising section of Sun Devils' Athletics.
Don't miss out on the chance to dress up in cocktail attire and celebrate your ASU Sun Devils' awesome season!
The venue is located in the Scottsdale Mall near the Civic Center in Old Town Scottsdale. Click HERE for the location of and directions to Clayton on the Park.