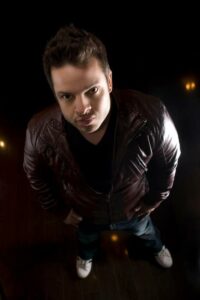 Best known for his signature blend of catchy vocals, booming base line and genre-defying range,  Starkillers will be in the Valley tonight at Wild Knight. Another win by Relentless Beats for sure.
The Las Vegas native is recognized as the man behind the MASSIVE hits "Discoteka" & "Scream." "Discoteka" was the very first track released under his Starkillers alias. It lived at the top of the Billboard Dance and Beatport sales charts, named an "Essential Selection" on Pete Tong's BBC1 radio show, nominated for best underground track at the IDMAs, and supported by almost every major DJ. But the track's success simply encouraged the hard working producer to get his ass back into the studio and create a world of music his friends and fans have come to recognize him for.
Starkillers has an impressive list of musical accomplishments; started a record label called Terratraxx in 2002, produced numerous original productions as well as high profile remixes. Working under pseudonyms such as Starkillers, Killers & Rockers, Detroit Millionaires, and his own real name Nick Terranova, he created remixes of Armand Van Helden, iiO, The D.O.N.S, Robbie Rivera, Paul Oakenfold, Dj Dan, Dj Chus, Space Cowboy, Carmen Electra, Paul Van Dyke, and many more.
If you're not going to be in Vegas (Because I will or I would totally be there)… Go see how amazing this guy is. Seriously. You won't be disappointed.
[youtube id="fyqXzbSh3Ko" width="600″ height="350″]
For tickets and more information about the show: www.relentlessbeats.com