Photo courtesy of sarahfit.com
There's only one way to celebrate the Fourth of July in Arizona, and that's with a pool party. Our rising temperatures and resort lifestyle can only mean a day rage down in Old Town Scottsdale to honor the red, white and blue. With the pools at Maya and the W Hotel continuously remaining the hottest pools in town, it's no surprise that they will be hosting some real star-spangled bash's this weekend. Read on for the lineups and make sure to listen to each artist before you go.
Photo courtesy of soroyalty.tumblr
W Scottsdale
July 3 – Mark Farina – Chicago-based house DJ, Mark Farina, is best known for his jazzy Chicago house mixes and his extended sets that can last over eight hours at a time. He has trademarked his own style of mixing and released a seven volume series of musical compilations called Mushroom Jazz. Farina performs hundreds of shows worldwide every year and continues to garner the attention of young fans and seasoned DJs. Tickets here.
Listen here:  Rental Skates
July 4 – Brooke Evers – Supermodel, TV personality and W's holiday resident DJ, Brooke Evers, will be setting the tone the with the most popular party hits and remixes, creating the perfect atmosphere for guests to sip on cocktails, enjoy great music and cap off the evening with an exceptional fireworks display! Tickets here.
Listen here: Take These Shots (Brooke Evers Remix)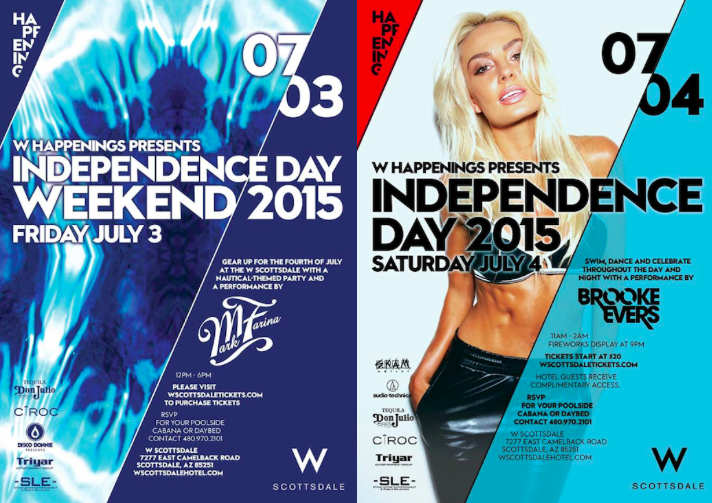 Maya
July 3 – TJR – DJ and producer, TJR, signed to fellow dance music artist Chris Lake's record label Rising Music in 2012. After signing with the label, TJR went on to top the Beatport charts with his hits "Funky Vodka" and "What's Up Suckaz." His success has continued with his smash hit "Ode to Oi" and his certified multi-platinum track, "Don't Stop the Party," a collaboration with Pitbull. Tickets here.
Listen here: Ode to Oi
July 4 – Borgeous with ETC!ETC! & Brassknuckles – Producer and radio host, Borgeous made a name for himself in the dance music scene with the release of his track "Tsumani," a collaboration with electronic duo DVBBS. The track rose to the No. 1 spot on the Beatport Top 100 chart and quickly became the "most played tune at Tomorrowland" according to Billboard magazine. He continued storming the Beatport charts with the releases of his popular tracks "Invincible," "Celebration," "Wildfire," and "Stampede."
ETC!ETC!'s has garnered support from the likes of EDM leaders Diplo, Wolfgang Gartner, Dillon Francis, and more. ETC!ETC! maintains a steady rotation on BBC Radio 1 and has performed at major festivals including Mad Decent Boat Party and TomorrowWorld.
Brass Knuckles fuses together elements of electro, traditional house and rock. Their collaboration with The Cataracts, "Crack," received praise from numerous dance music blogs, as well as immense DJ support from the likes of NERVO, Dada Life, Tritonal and more. Tickets here.
Listen here: Wildfire