Practice your singing chops at Old Town Scottsdale's newest karaoke bar, the L.A. nightlife concept Blind Dragon which opened in January. Draped in seductive Asian decor with low lighting, tiki-themed cocktails, live music and more, the concept is perfect for large parties and celebrations.
For the ultimate experience book one of the bar's six private karaoke rooms where you can belt out more than 25,000 songs, from solo performances to group jam sessions. Choose from the Absolut Elyx room which can hold up to 20 people, the Veuve Clicquot room which holds up to 15 or the other four rooms which can hold up to 10 people. For those in the mood for mingling, the bar also has a main lounge where a DJ spins beats Friday and Saturday nights.
In the spirit of summer, the bar has just unveiled new specials and pricing to raise the volume on your night.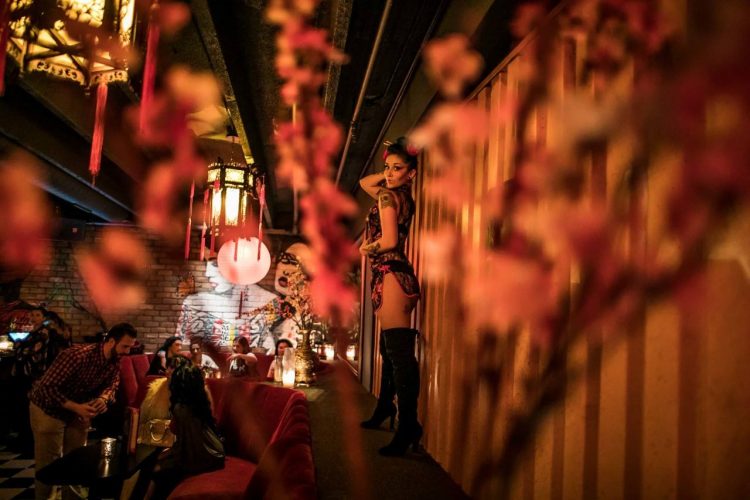 Industry Nights: On Thursdays, enjoy half-priced bottles, 25-percent off signature cocktails and half-priced karaoke room sessions. All specials are valid for those in the industry plus any guest visiting that night.
Dragon Hour: Enjoy half-priced bottles from midnight to 1 a.m. on Fridays and from 10 to 11 p.m. on Saturdays.
Karaoke Room Pricing: Rent the largest private suite, Absolut Elyx room for just $200 for two hours with no food and beverage minimum. The Veuve Clicquot room, the second largest suite, is now $150 for two hours with no food and beverage minimum. The remaining four suites are now $100 for two hours with no food or beverage minimum.
Blind Dragon is open Thursday through Saturday from 8 p.m. to 2 a.m.
For more information, visit: blinddragonscottsdale.com