The Twelves @ 910 Live, Tempe, AZ from PheosiA Films Production on Vimeo.
by: Amanda Savage
Local DJ duo TABS opens for Frankmusik at the Rhythm Room on Wednesday, June 26. The duo produces a clean, house/ progressive house sound of original tracks and remixes. Recently, their remix of Aussie DJ duo Nervo's "Hold On" gained industry recognition.
If you judged TABS by their sound alone, you would be shocked to find that they are rockers at heart, who grew up worshiping the self-hate of Nirvana and 90s punk. AFM spoke with Ben and Eric, the men behind TABS, to discuss their recent successes, their other music projects and the delicious short and prime rib from Chelsea's Kitchen.
AFM: Let's start with some ice breakers, what are you doing right now?
Ben: I just finished up a two hour set in Tucson, it's been a busy week and I'm replying to the interview at the club right now.
Eric: I'm in the process of finishing an EP with a side project that I'm really excited about sharing with the world very soon. It's a bit more hip-hop than the TABS sound, and breaking into new styles is always something we're interested in trying.
AFM: What's the last song you listened to, besides your own?
Ben: I just fished playing Disclosure – "Latch" (Feat. Sam Smith) for my last song in my set.
Eric: Har Mar Superstar put out an amazing track called "Lady You Shot Me". I really like where he's going with his sound.
AFM: What city do you live in?
Ben: I'm in Tucson while Eric is living in Tempe currently. We were flatmates up to about a year and a half ago.
AFM: Where can people listen to you now? Where might they have seen you before? 
Ben: I have a consistent Thursday night at The Auld Dubliner on University Ave. in Tucson. You can find me doing guest spots at all sorts of clubs down here like Club Congress and Playground Bar and Lounge on various weekends supporting friends with residencies there. We've played all over Phoenix, Tempe, Flagstaff, Tucson and San Diego as TABS. We've opened up together for The Twelves, Gigamesh, Midnight Conspiracy, Myndset, and Vibesquad as some of our more notable acts. Separately we've opened up for Dave Nada, Savage Skulls, At Dawn We Rage, and Larry Tee.
Eric: When we got TABS rolling, I started playing out less and less alone, and spending more time writing and working with Ben on remixes. These days, when I DJ, it's with Ben. We've been doing it so long now that I don't even know another way. But he plays out a lot. It's impressive.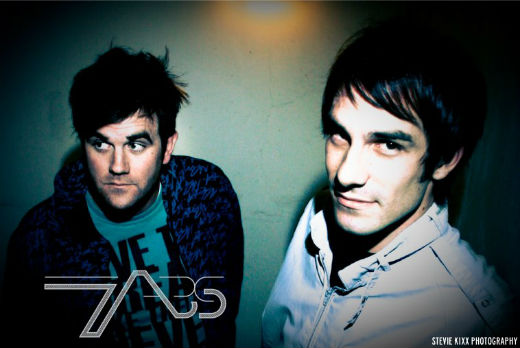 AFM: So you guys met as separate acts, DJs Swookie Monster and Speedy Graffiti, how is the sound of TABS separate and similar to your individual sound and personality? How would you explain your sound to people?
Ben: We both came from backgrounds that were very rock influenced. We don't really have the big "rave" background that many longtime producers and DJ's have from back in the 1990's. I think from growing up with so many different rock genres, we were immediately put off to label our sound in any sort of sub-genre. We've progressed in electronic tastes as we've grown as people and artists since we started producing together. If you checked out our soundcloud, you'll find many of our track genres are labeled simply as "Electronic". We have never felt the need to explain further than the fact that we're writing what we're loving to do at the time and since we aren't using any analog instruments, we're pretty happy with each song speaking for itself to however each individual wants to classify it.
Eric: When we started TABS, we really didn't nail down any particular 'sound' and we wrote a little of everything. The sound now is an evolution that happened naturally and i don't think either one of us would have gone that direction alone. Our sound is what i would call a cross between the harder and heavier acts with a ton of melody and hooks thrown in. The evolution came when we started playing with bigger acts. We wanted to play loud and hit hard too, but you really can't blow away the headliner. So, we adapted to a more musical style and wrote songs we wanted to play but couldn't find anywhere…and well, you can't argue with results (ha)
AFM: What was your first music love?  How does your past music experience impact the DJ you are today?
Ben: I briefly explained in the previous answer we didn't really grow up in the EDM culture. When we both heard it for the first time we knew we connected with it but our roots were heavily in rock music growing up. My sister was going to college in Seattle when I was growing up so I personally grew up on a lot of grunge which translated into early 90s punk and underground hip hop in the skateboarding scene i ran with. I think the first electronic act that really turned me toward EDM was hearing The Chemical Brothers in high school. Our rock influences come through in our production all the time. We've said that everyone connects to growing up on those sounds and even though we produce entirely electronically, we try to connect the realist sounds as possible in our production, especially with drums and percussion that people hopefully connect to just from their own musical experiences in their past growing up.
Eric: I remember the first time I heard "Smells Like Teen Spirit". I was shocked. I didn't have an older sibling, and my parents never showed me rock n roll, so it really hit me hard so young. I begged for a guitar and finally got one, and played in probably 15 bands. I was interested in electronic music when i was younger but didn't like how everything sounded like it was done on an old Casio. DJ Dan and Richard Vission came along and I really dug on house for a while. They played it like it was punk rock in my head…and I wanted to do that too. I started out producing and writing and eventually broke down and started to DJ live, and I love it.
Feel The Cry, Just A Little! from mac nguyen on Vimeo.
AFM: So what's the story behind your name? What is the funny auto correct story you mention on your Facebook page?
Ben: There was a point just after I had moved to Tucson, and I had texted Eric about a song we were working on together about some revisions he had sent me on the track. I had tried to type "That's the $#!*" but I was in a rush and didn't even notice it had corrected to TABS until almost a day later. Eric simply thought that it might be some sort of new slang we were saying in Tucson and didn't ever question me on it. When we were trying to think of a name, he brought it up again and we had a really big laugh because we both so not even close to being on the same page, it wasn't sort of any slang down here in Tucson, just something we both didn't catch. We just decided to run with it since it had a little back story and we both had a good laugh about it.
AFM: What can people look forward to from you guys as far as new music and performances? What new music and shows do you have planned for 2013?
Ben: We just got confirmation for an exciting opening act. We'll be opening up for one of our longtime favorite artists Frankmusik from the UK on his US Tour "Between States" when it hits the Rhythm Room on Wednesday June 26th. As of June 6th, we just released 4 new tracks. We had contacted the twins from the EDM duo Nervo and had sent them our bootleg remix of their newest single "Hold On". Their management had gotten back to us that both of them really liked it and they wanted to send their stems (individual tracks) to us to do a proper remix of their song. We just got it approved by them to release on our social media outlets. Additionally, there is an up and coming solo artist named Javier Dunn who had a single called "Couple Of Drinks". I think it immediately appealed to our rock/indie background as far as vocals went. We had trouble deciding which direction to go with the remix and so we ended up doing 3 different versions of the song we just put up for free download on our Soundcloud page. We've got some shows in the works but nothing definite to share right now. We'd really like to bring our good friend Myndset back out from LA and do a show with him in Scottsdale soon. We brought him out ourselves in 2011 to do shows in both Phoenix and Tucson to a really good response and we'd really like to do it again soon.
AFM: Let's get into some music questions, who are some of your favorite producers at the moment? Local or not.
Ben: The Chainsmokers, Project 46, Ryan Hemsworth just to name a quick few that have really been inspiring recently.
Eric: Diplo. I think in the long term, he'll bee seen as a sort of Thomas Edison of EDM. Always inventing new things. Pickster One has never put out a song that I didn't love. I really like Zedd a lot too.
AFM: What's your dream venue to play at?
Ben: Marquee Day Club in Las Vegas at The Cosmopolitan. I'm there once a year for work and I love afternoon outdoor sets.
Eric: Oh so many…
AFM: If you could tour with three other DJs, who would they be?
Ben: This will be very similar to my production answer but I'd say The Chainsmokers, Project 46, and Calvin Harris.
Eric: I want to go on tour with Project 46.
AFM: What are you guys doing when you're not making music? What are your hobbies or day jobs?

Ben: We both love road biking a lot. Production and DJing can fill your nights up easily but we also enjoy taking in live music whether rock, hip hop, or electronic. I work as a Sales Manager in the Resort Industry with Corporate groups coming in for corporate conferences.
Eric: I'm a bartender in Scottsdale, and I know it sounds silly but I love to be outside, even in the heat, so I'm constantly finding things to do.
AFM: What's your favorite place to eat? Or favorite local menu item, or both!

Ben: The Short Rib at Chelsea's Kitchen is hands down my favorite. Any place I'm traveling that has Short Rib I'll always try and compare it to that spot.
Eric: Ha. Ben and I actually had the same answer for this, just different menu items…i would have said Chelsea's prime rib. I really like the trout at Culinary Dropout. I go there just for that.
AFM: Best place to have a beer? Or cocktail if that's more your thing?
Ben: Love the patio at TMI (The Main Ingredient). Always great vibes there. When I'm back in town you can often find both of us meeting up at Crescent Ballroom for a drink though.
Eric: Beer? Yucca taproom. I'll never say no to Four Peaks either.
The Herb Box has an amazing list of GOOD cheap wines. It's my favorite thing about them.
Follow Amanda on Twitter @Amanda_Savage