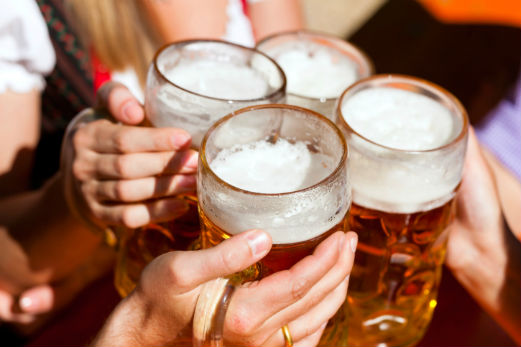 by: Lorraine Campos
In Germany, Oktoberfest is the world's largest festival, and it's held annually in Munich for about 16 days, usually between late September, until the first weekend in October. Millions of people from around the world attend this fair, not only for the world class beer, but also for the celebration and activities, music, and traditional food.
In the Valley of the Sun, Oktoberfest offers valley residents the chance to experience a taste of that Bavarian tradition right here in the sunny Arizona desert, complete with traditional German cuisine, as well as alcohol. There are several celebrations going on throughout the Phoenix metro area, so you don't have to board a plane to Germany to get a taste of the action; you simply need to pick a neighborhood in the valley to celebrate. With temperatures starting to dip into the high 80's this week, it might just be the perfect weather to get out and experience Oktoberfest with other valley locals.
Four Peak's Brewing Oktoberfest
October 11 – 13
Tempe Town Lake Beach Park, Tempe
It may not be the 16 day party that you'd experience with the Germans, but Oktoberfest in Tempe is held for 3 days on the shore of Tempe Town Lake, with a beautiful view of the sunny skies reflecting off the lake, perfect weather, and plenty of other Arizonans who are ready to celebrate. Listen to the live music floating through the air, and take part in activities such as gold panning, a craft zone for the kids, as well as a carnival ride or two. Come out to Tempe and catch the Daschund races while you drink an ice cold beer and be thankful that the weather in Arizona in October is far more pleasant than the much cooler temperatures in Germany. For more information, visit fourpeaks.com!
Salt River Fields Oktoberfest
October 12
Salt River Fields, Scottsdale
Salt River Fields is known for Spring Training and the baseball action it brings along for Arizonans, but it also sponsors an Oktoberfest every year (the "c" in Oktoberfest is deliberate.) If you come out and party with your fellow Phoenicians at this festival, you can also take part in a volleyball tournament, cornhole tournament, and possibly even walk away with cash prizes. Proceeds from Oktoberfest will benefit St. Jude's Research Hospital, and admission is $10 for general admission, $15 for general admission and a Mug, and $50 for the Arizona Foothills VIP Area, which includes 6 free drinks, a $20 food voucher, and a shaded lounge near the stage. You'll also have your choice of beverage at the event as well: Salt River Fields Oktoberfest will offer valley residents a wide range of different drinks and food options as well as a child area for the kiddos to play, and music that will get you moving and make you glad you came out to the ballpark.  The event is from 10 a.m. – 10 p.m. Salt River Fields is located conveniently off the 202 Freeway in Scottsdale, at 7555 N. Pima Rd,
Scottsdale, AZ 85258. For more information, and to purchase tickets for this amazing event, visit saltriverfields.com.
Oktoberfest at The Cellar Door
October 12
The Cellar Door, Kingman
If you're a fan of street parties and want to take a peaceful drive in the cooler autumn temperatures, Kingman is the place to be to celebrate Oktoberfest. You can enjoy a street party complete with various typesof beer in the biergarten for the 21 and up crowd, traditional music and food, and you might even learn how to polka. Oktoberfest in Kingman is celebrated at The Cellar Door, 414 E. Beale Street in Kingman, and the even lasts from 5 p.m. until midnight. For more information, visit gokingman.com.
Oktoberfest on Mt. Lemmon
Weekends from September 21 through October 13
Mt. Lemmon, Tucson (Summerhaven)
Mt. Lemmon Ski Valley is a popular destination not only for Tucson residents but also for Valley residents looking to escape the heat and get away for the weekend. Between September 21 and October 13, you can take part in celebrating Oktoberfest on Mt. Lemmon, including German beer, delicious food, and live music. Parking is only $5, and admission is free for this event, which is another added perk, and if you bring a designated driver, you don't have to stick to the three beer limit. Ski Valley in Summerhaven is located at 10300 E. Ski Run Rd., Mt Lemmon, AZ 85619. For more information, visit skithelemmon.com.
Red Rocks Oktoberfest
October 19
Los Abrigados Resort, Sedona
Red Rock country in Arizona is absolutely stunning all year round, but the trees throughout the community of Sedona and surrounding area, and the picturesque views in Oak Creek are simply breathtaking, and something you don't want to miss. Oktoberfest is totally worth a drive to Sedona on the 19 of October, where you can enjoy craft beer from local breweries, wine from nearby vineyards for the wine connoisseurs, traditional, mouthwatering German fare such as bratwurst. There will also be live music and a portion of the proceeds from this event will benefit Sedona Oak Creek School District. Held at gorgeous Los Abrigados Resort, you can rest assured that this event is well worth the drive from Phoenix. Admission is $15 per person, but you'll be supporting a good cause and celebrating as the Germans do. The event will be held at: Los Abrigados Resort, 160 Portal Lane, Sedona, AZ 86336.For more information, visit redrocksoktoberfest.com.
Follow Lorraine on Twitter @lil_misslc