Though the weather has been a bit drab and even chilly lately, the weather people have promised us that the sun will come out again soon. With that said those toes have been kept inside your favorite pair of closed-toed pumps for too long—time for a spring pedicure (perhaps with one of these colors) and then start building the perfect sandal wardrobe.
The Floral Embellished Sandal
Every year it seems that there is a plethora of floral sandals to choose from, and this year is really no different (which just means that there is something for everyone). However, my top choice this year is the Chle Mihara Wind Flower suede sandals. The flower is certainly oversized but the petals lay just right and don't feel too foo-foo, plus the vibrant color will go perfectly with all of your favorite spring dresses.
The Mid Wedge Sandal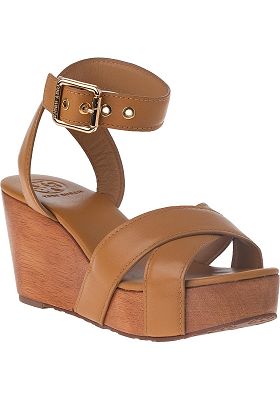 At Tory Burch, $285
I will admit that at first I wasn't too sure about this whole mid wedge thing, but once I saw them on (not to mention how comfy they are) I was a believer. Tory Burch created this everyday staple, neutral-colored pair with wooden heel and leather straps—you can even take them into fall with tights.
The Espadrille Sandal


At Neiman Marcus, $275
Close cousin to the mid wedge is the espadrille… This season's trends are all about vibrant color so why not apply the same trends to your shoes. Kate Spade did an excellent job with these Lindsey Striped espadrilles with nude patent leather that can be paired with literally any color!
Embellished Thong Sandals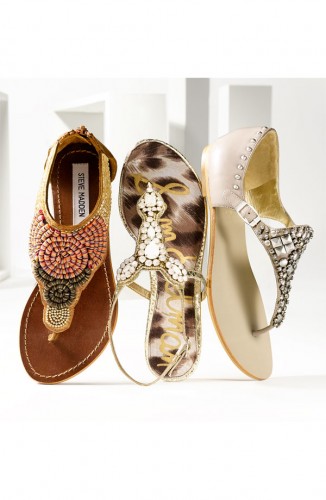 At Nordstrom, Steve Madden, $79.95; Sam Edelman, $99.95; Joan & David, $174.95
Nordstrom has the monopoly on adorable and fun embellished thong sandals, to say the least. Let's start with the first one by Steve Madden, these Pharroh sandals are inspired by the art of Ancient Egypt and would pair great with an equally culturally inspired caftan. Next is the Sam Edelman Ross sandal snake-stamped with chunky crystals—cute cuffed shorts anyone? And last, studded and stone embellished Joan & David Kaycia sandals, the leather back give this pair a more Western feel.
The Platform Sandal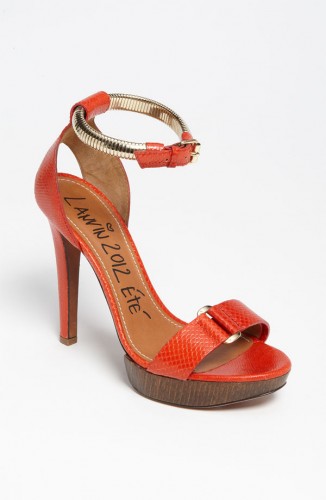 At Nordstrom, $1,385
Don't worry I won't leave you without a sandal you can go out in, and by going out I of course mean to your favorite wine bar, a spring party, a wedding, or to your favorite place to get your dance on. The Lanvin Ankle Chain sandals are like having a true accessory on your foot. A bracelet-esque golden omega chain wraps around the ankle, which means these are perfect for you favorite going-out skirt or dress.