Is there anything that says Paris fashion better than the house of Chanel? For most people from the time that they even become aware that fashion…true fashion exists there is one name that is synonymous…. Chanel, Chanel, Chanel. Certainly this season Karl Lagerfeld did his best to cement the brand further into the realm of Wow! The Chanel show that Karl Lagerfeld staged throughout the entire expanse of the Grand Palais was just magnifique', one of those rare moments when the jaded fashion audience will remember for a long, long time to come. The buzz was abounding from the first step of the models heel to the murmur of the exiting crowd. Fashion regulars were said to be weeping in awe at how amazing it was.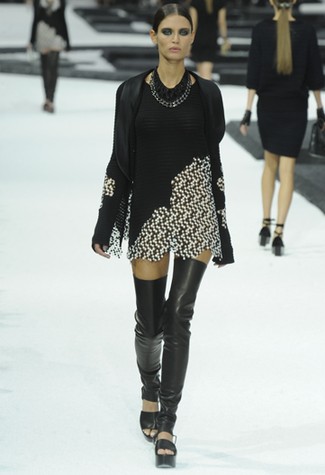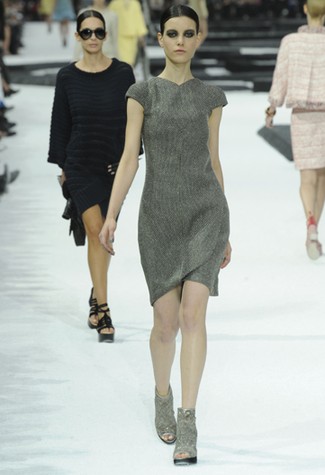 The set itself — make the environment that much more entrancing. Lagerfeld conceived an elaborate garden complete with three fountains and low, curving borders that encased internal scrolls and paisleys. This garden in particular was one of no greenery, instead it was made of carerra stone and marble, all black, white and gray. The scene bore the look of a surrealist fantasy and was inspired by the film "Last Year at Marienbad," for which Coco Chanel provided the costume design.
A certain mood accompanied the opening, the clothes distressed a la' Chanel-style, which is to say faux-fur, tweeds with holes impeccably embroidered for enduringly chic occasions to come. Swishy dresses and shoes to palpitate for. Some looks had unfinished edges, and Lagerfeld took to tearing up the jeans, as well.
A show of this mass, with loads of models not to mention musicians cannot be a one trick pony… rather an abundance is necessary.
The line up ranged from new faces to favorite and although the pace came far too fast (I am told) and repeatedly to take in what was happening, there were some clear motifs. Short tweed jackets with a loose back, with black leather and a vibrant tweed or print a racy alternative. KL likes, longer lengths but shows equally to every trend. Colors were ample black, sometimes with bits of white; metallic or pastels, including a Springy sunshine yellow and a pretty young pink. Lagerfeld sprinkled the garments with feathers, embroideries and giant floral prints.. Forget the minimalism here Lagerfeld is nothing if not opulent….. and don't even mention the word "small".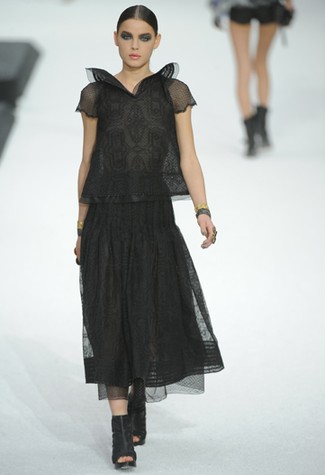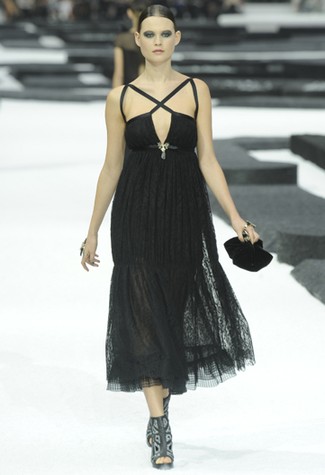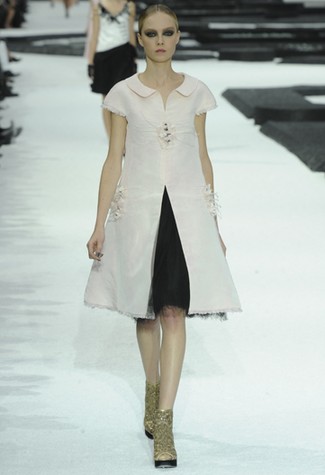 For me, give me smudgy black eye shadow and slicked back hair with a sexier than thought cocktail frock and you had me at heck yeah! There is nothing sexier and KL is the man to do it!