The buzz is certainly in the air about the upcoming New York Fashion Week shows. In just two weeks fashion industry insiders will be convening on the city for the parade of designer shows. But, for now we are obsessing about the Spring Couture show that took place in Paris this past week.
As always Karl Lagerfeld kept the fashion world perched on the front of their chairs. This time a less grandiose but equally stunning venue and collection delighted on lookers at the Rue Cambon. Even accessories were paired down to their simple yet dramatic best.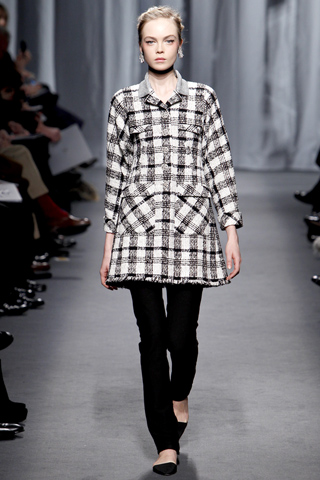 The show opened with an array of surprisingly casual clothes (casual for Chanel that is) such as slim cut pale blue and pastel pink jeans and even some bedazzled looking ones with ankle buttons. They were paired with beaded t-shirts tied with sashes. The palette was a refreshing array of pinks, blues and the standard Chanel black and white.
Silhouettes were mostly airy, flirty and in some cases geared towards a young ingenue rather than the classic Chanel customer. But the collection also included plenty of sophistication as well. Evening gowns as always were elegant, chic and enticing and ran the gamut from sleek to cascading..
I especially loved the blend of era's, a skinny pant with a swingy mod coat, or a slinky drop waist dress reminiscent of the early days of Coco. Day dresses blended bits of bohemian with a Roaring twenties detail. Or fluffy layers of organza like fabrics created ultra feminine frocks that had me wishing that I could wear them everyday… with a full event calendar to match.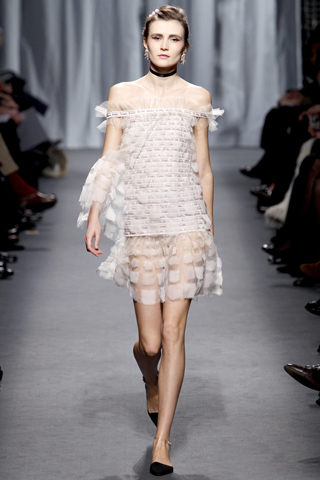 Interestingly many of the gossamer looking pieces were actually spun from embroidery and several pieces were adorned with beading (10,000,000 used in this show to be exact) in an exquisite and mesmerizing way.
Style.com noted the following about Lagerfleds inspiration for this show in their review. Artist Marie Laurencin was his inspiration. In 1923, she designed Les Biches, a ballet commissioned by Diaghilev with a scenario by Cocteau. Chanel was designing Le Train Bleu for the ballet impresario at the same time. She asked Laurencin to paint her. The languor and sweetness of the portrait that came from the sitting weren't pleasing to Chanel, but Lagerfeld seized on those qualities to reinterpret her ethos in a way that was paradoxically provocative and modest. The pink bouclé suit, the drop-waist dress, the sugary, rough-edged tweeds were fragile where Chanel herself was steely.