Alright ladies and gents let's talk about it… Bey Bowl! At least that's what the Twitterverse was calling the Super Bowl this weekend. To be honest, I have never been a Beyoncé fan, but she may have won me over during her mini concert a la the halftime show.

Photo: glamour.com
For one thing, the larger than life songstress looked amazing—beyond amazing! Her body was in tip-top shape and I am looking forward to finding out just what she did to look that good in her leather costume and nude fishnets.

Photo:cnn.com
She was not the only lady looking to impress that night, her Destiny's Child group mates Michelle Williams and Kelly Rowland literally set the stage on fire in their leather getups.
If you are as infatuated with Beyoncé's look as we are, you'll love this Fashionista.com interview with the costume's designer, Rubin Singer:
Fashionista: First – congrats! What has the reaction been like?
A moment like this, having such massive exposure and people receiving it so well, will have tremendous impact on the exposure of the brand. People are hearing the name and getting it out there.
What was the process like?
I had to complete work in secret. I couldn't say anything to anyone but the people on the inner circle. When I started meeting with Beyoncé to develop the concept it was very hush-hush. I couldn't say anything until yesterday.
Was it hard to keep quiet?
I just kept my mouth closed. At the end of the day, if everybody found out.. I would just never jeopardize my relationship with her. I've worked with her for so long and have such a good relationship with her. Plus it would ruin the surprise and excitement!
So what's next?
Fashion week. We're starting to book appointments for fashion week. Luckily the collection is completely in sync with what I did for her.
The collection is called "Valkyrie's Dominion" – what's it all about?
It's really about a strong empowered woman and making her feel amazing in fashion. I was also inspired by Helmut Newton photography and German film stars from the '30s like Marlene Dietrich.
Check out the rest of the interview here.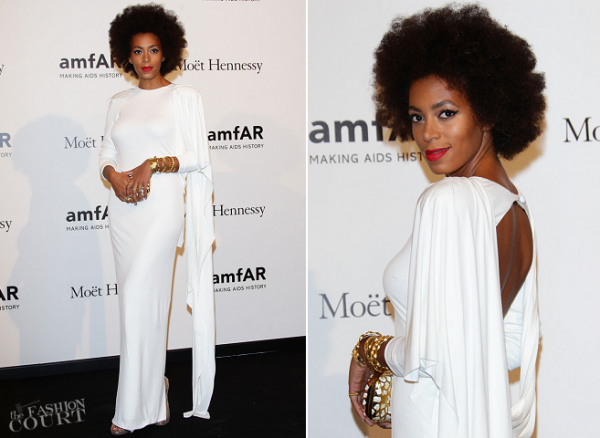 Beyonce isn't the only Knowles (or I guess former Knowles) who loves a Singer garment. Last year, little sister Solange wore a stunning white Singer gown to the 2012 amfAR Milano Gala.
I surely can't wait to see what else the 34-year-old designer has in store for us. Are you now a Singer fan?
By Kristianne Young