Some people might be all about the golf and others might be all about the parties, but the girls I know are all about what to wear to the FBR Phoenix Open this weekend.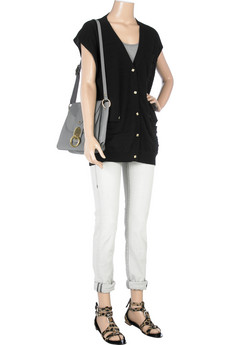 Without a doubt, the Open is a memorable event; a weeklong's worth of festivities with bright and shiny weather is in store. Not to mention pro-golfers and celebrities galore, it's enough to get us into trouble just by mentioning it. But if there's one thing I've learned from going to the FBR Open the past few years, is that it's definitely one of the biggest places I see fashion faux-pas. You would never think that a golf course would be ridden with Glamour "Don'ts" but the FBR Open is one place Glamour's photographer would go camera-happy. I've been waiting till midweek for this post ( so weather.com could be more accurate)  so here, a few rundown rules on what to wear to the FBR Phoenix Open this weekend.
1.No Stilletos
This cannot be said enough. Leave the stilletos at home. It's midday. There's grass. There's golfers. There's absolutely no reason to look that ridiculous or try so hard and I promise you there are much more subtle ways to look chic and sexy, none of which involve 5-inch daggers digging into the turf.
2.Try a Sundress
I did the 10-day weather.com forecast and Friday and Saturday is expected to be a bright and sunny 75 degrees, so dress accordingly! If you're not really feeling the jeans+wife beater look  (another chill alternative for this event) try a casual sundress instead.
3. Wedges if You Must
Need the height? That's fair, I'm only 5'4″. Forgo the urge to grab those stilletos and sport some wedges instead. The added height is still sexy and the wedge is a supercute look for spring.
4. Riding Boots are Still Chill
It's still cold enough out to pull off a chic pair of riding boots. Tucked into superskinny jeans, you'll be comfy and casual all day long yet still look event appropriate. I think this is the look I'll be sporting at the events this weekend.
5. You don't have to look like a golf groupie
Just because it's the Open, doesn't mean you have to break out the head-to-toe Lacoste outfit. Try some high-waisted pants and riding boots, some cute shorts and wedges, or a nice sundress with gladiator flats instead. Don't forget a chic pair of oversize sunglasses! Accessorize with cute hats and hair scarves. Just remember, be casual and have fun with your look.
I'll try and post a few key-looks later this week. See you at the Open!