Fourth of July is just around the corner and I still haven't figured out how I will be celebrating this year. For years one of my bestie's had a chili cook-off that garnered a large crowd of family and friends, then afterward (smelling of cayenne and smokey tomato sauce) we would all head out to the golf course folding chairs in hand and watch fireworks with our tall glasses of lemonade.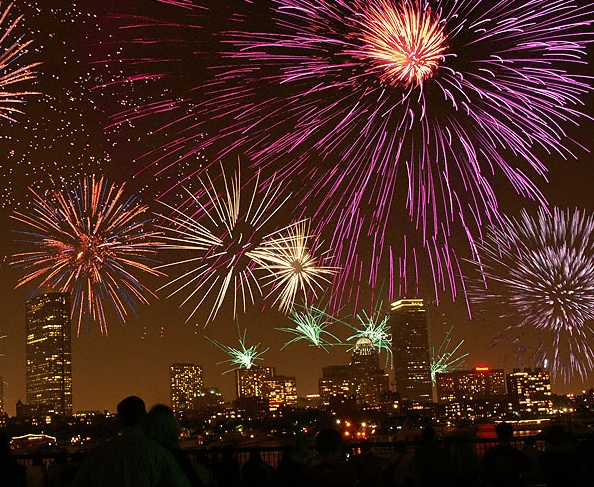 Other years my family would gather at my Mom's home to watch the spectacular fireworks display that came from the community park around the corner. We were lucky enough to see the entire thing from the comforts of our back yard or rooftop without having to deal with the massive crowds and parking issues that other spectators had to deal with. And over various years I have had the pleasure of being on location bunking in New York, Chicago, Seattle and other metropolitan cities that do up the holiday in a big way.
So it seems I have forty-eight hours to make up my mind and maybe show a little fashion patriotism in the process. Here are a few ways to show your red, white and blue this holiday!
If you are heading to a dressy causal cocktail soiree how about this darling combo Aubin & Wills Carnforth Cotton Shirt from Net-A-Porter. And don't miss the chance to wear that fire engine red nail polish Chanel Le Vernis Nail Colour in Dragon is the perfect chic shade. And the Roxy Jam Watch makes a crisp clean statement when added to any outfit…. Plus the white watch trend is still in full force so grab this one for a bargain at $49.95, available at Roxy
For a barbeque or picnic I just love this plaid blouse by Quotation Roobie Peace. It's the perfect grown up plaid. Available at Bloomingdale's. And I have been crushing on the line Madewell for awhile so when I saw these Ropey Soles Simple Espadrilles I flipped, retro, comfy and cool all wrapped up into one. At Madewell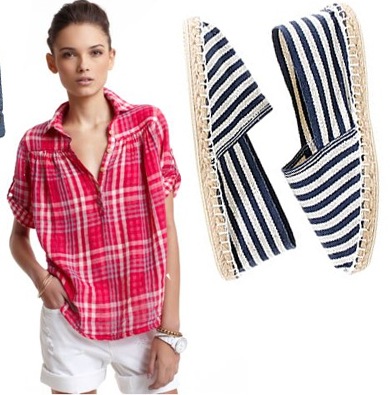 To spice up any outfit how about this cute little red messenger from Madewell? And you can lacquer those lips with LORAC Lipstick in Breakthrough Performance for a little pop of color.
If you are hanging pool side why not go with the ultimate patriotic suit? This one by Zimmerman is a modern update on the famous Betty Grable pin up from the 40's. At Net-A Porter. Or go subtle, sweet and sexy with this super cute J Crew Chambray Bikini. And for a fun flash of color try Rococo Nail Polish in an unexpected shade of blue.