Whether you're rooting for the Patriots or Seahawksm – or just simply enjoying Super Bowl festivities – sporty chic is the name of the fashion game for the 2015 Super Bowl.
Save the Date! The NFL Super Bowl is February 1 in our very own University of Phoenix Stadium in Glendale, Ariz.!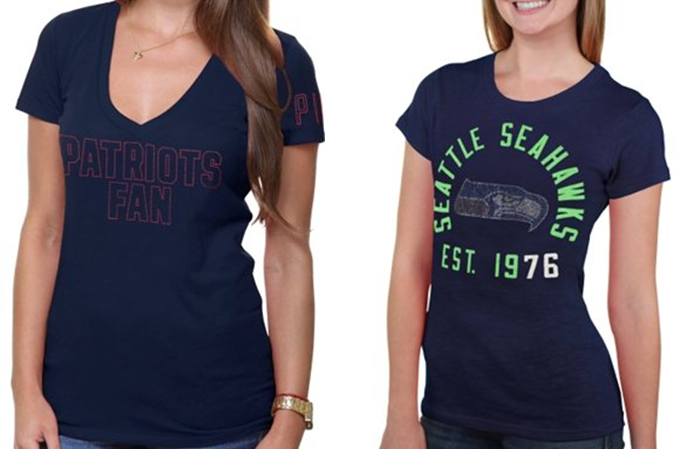 Root & Shine. Add some girly fun to the game with a bit of sparkle. Victoria's Secret PINK has you covered with rhinestone-bedazzled logo shirts that read either "Patriots Fan" ($25.99) or "Seahawks" ($34.95).
Ultimate Fan Girl. Are you a die-hard fan who has a favorite team player? Rock your player's name and number on a fitted women's team jersey. Names like the Patriots' Brady and Mayo, or the Seahawks' Lynch and Sherman are available for $95 a pop at Dick's Sporting Goods.
DIY. Nothing builds the excitement of a game quite like making your own DIY shirt to cheer on your team. For an easy rendition, decorate a plain-colored tank top or T-shirt with your team's logo and colors with fabric marker or glitter glue. Think dark blue, bright green and silver for the Seahawks, and blue, red and silver for the Patriots. Check out these cute and easy T-shirt refashion ideas from Endlessly Inspired for inspiration.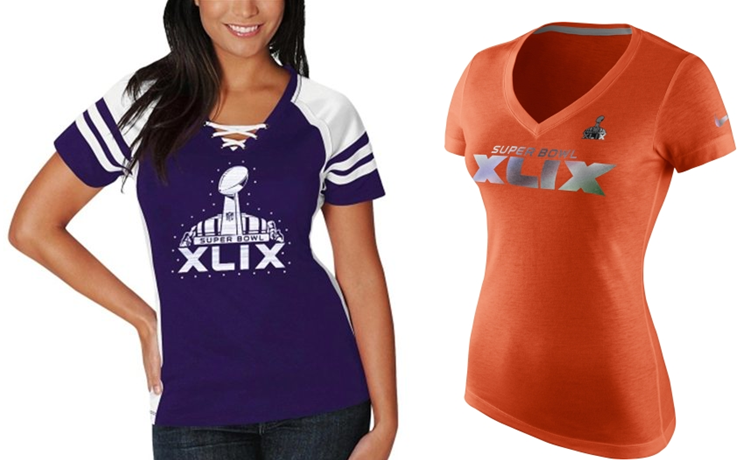 Neutral Zone. If you're neutral between teams and just want to have fun without the competitive edge, try an athletic-inspired Super Bowl XLIX shirt that doesn't name a specific team. Lady Fanatics Women's Majestic Purple/White Super Bowl XLIX Draft Me T-Shirt ($49.95) or Nike Women's Super Bowl XLIX Kickoff Orange V-Neck T-Shirt ($38.00).
Sources: IBT; Pinterest