So here we are at what is supposed to be the official "end of summer" weekend. Of course for all of us AZ dwellers…the summer seems endless doesn't it? Just when we want to drag out those suede boots the summer keeps dragging us back in…
This weekend was originally established by Pres Grover Cleveland to mark a reconciliation to the labor movement after a number of workers died at the hands of a U.S. Military scuffle (okay I am taking some slight liberties here with the events but you get the drift) it was Clevelands way of paying homage and making amends. In any case as with all things, the holiday has morphed into a reason to party and eat BBQ. Not that there's anything wrong with that mind you…we can all use a three day from time to time.
In any case if you find yourself headed off to do some saucy damage at the buffet here are a few suggestions to keep you looking comfy and cute this weekend.
How about this darling little Mossy Atoms Skirt from Anthropologie. It's relaxed and fresh paired with a sweet little tank and thick belt, plus it works with flats or wedges so you can be as comfy as you want and still look smashing.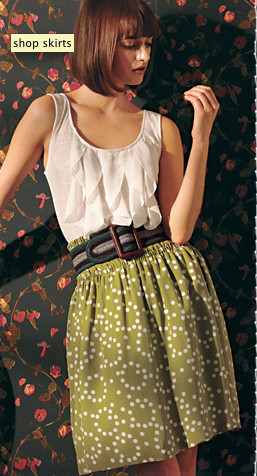 Or maybe this easy breezy skimmer pants and fresh caprese cotton tunic both on sale now at J Crew. Add a dash of liquid eyeliner and some berry pink lips and this look is reminiscent of an early Audrey movie before her breakfast at Tiffany's days.
And if you are going for the ultra relaxed vibe this striped silk romper just says summer lovin to me. It's so adorable and a tad sexy at the same time. Plus it works great with that I didn't bother to do my hair today lazy girl beauty.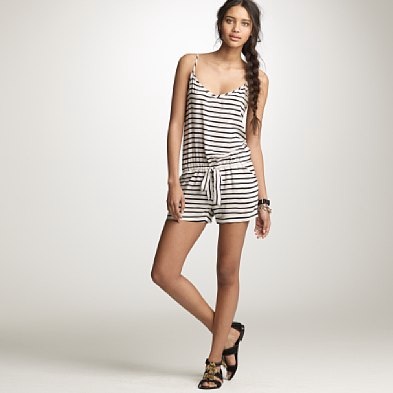 And if you are in to a little more covering up this Pins and Needles Maxi is a great option, it's light and airy so you will be looking cool no matter what the temp outside. And it's on sale right now at Urban Outfitters so you don't have to feel guilty about stowing it away when you bring out your fall fashion stash.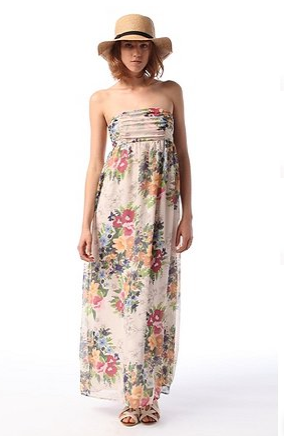 And that little maxi ( or the romper and skimmer pants) pairs well with these Candela NYC Rope Wrap Sandals another great sale buy from Urban Outfitters.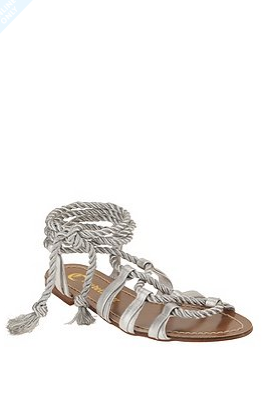 Happy Barbeque to all!