It's that time of year when we are heading full force into party season. With the holidays upon us there will no doubt be plenty of opportunities to deck ourselves out in the latest little black dresses, and party frocks from Thanksgiving to the midnight drop of the ball in Times Square on News Years Eve. For many women the issue is not always how to find the right dress, but instead how to find the right undergarments to make that dress look ever better. With so many options these days there is really no good excuse at all for VPL (visible panty lines), obvious padded bra gaps, muffin tops or jelly rolls in the mid section.
Those issues are without exception leave me scratching my head every time.. It's pretty clear, if you are lumpy, bumpy and busting out all over…. Then don't buy it, don't wear it and don't for heavens sake keep wearing it over and over, because it's not going to get better…. It will only get worse!!!
Even the slimmest of celebrities wear body slimmers, Spanx and curve enhancing lingerie underneath those slinky little dresses. The fact of the matter is that no matter how much you hit the gym and no matter if you are a size zero or a fourteen smooth is your key word! And if it doesn't happen on it's own when you slip on that dress, then girls you need a treasure trove of tricks to come to the rescue.
First off a shaping cami can do wonders under a fitted top Yummy Tummie by Heather Thompson makes amazing tanks that will smooth away bumpy bits and too much roll in the mid section to give you a sleek look even under clingy tops.yummytummie.com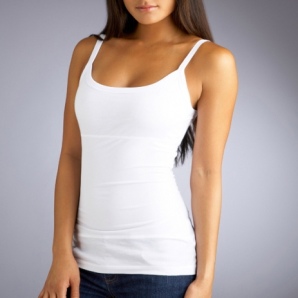 If junk in the trunk and thighs is your biggest problem, the most important thing is to buy a shaper with the right size waistband and leg bands, you certainly don't want to create any new bulges by having your "slimmer" cutting into your jiggly parts. Maidenform makes Thighslimmers like Control It! That slim every little bumpety bump. Pair it with the right shaping bra and you will look smooth under curve hugging fabrics. maidenform.com
As for bras, if you need a little enhancement but you don't want a shelf like gap between your skin and your blouse be sure to choose a seamless style of padded bra that sits against the top of the breast and feel that padding to be sure that it is a quality material.. This is one item that you absolutely must try on! Don't think that casually picking the right size means that it will fit correctly. If necessary try on a few different sizes to get the right fit. As with clothing brands, sizes are no longer "standard" as they were years ago so don't be afraid to experiment. Gap, Natori and Wacoal all make great fitting bras that are smooth and fit well. natori.com