In the age of blogging, tumbling, and pinning a tiny niche has made an impact- DIY. Okay, I am obviously being facicsious when I say tiny… If you are a member or reader of any of the above then you know just how large the DIY community has become. There are entire Pinterest boards dedicated to it, and you would be hard pressed not to find a DIY project in your favorite magazine, and of course there are many a DIY blogger. 
The you-can-do-it-yourself projects appear to be just about endless, ranging from making the current  "it" bracelet to how to perfect the latest and greatest manicure. Here are a few of our favorite DIY projects… Let us know which ones you try and how it turned out!
I Spe DIY is one of the first blogs I started to follow. Her tutorials are great and the pictures are extremely helpful. How fun are these glitter heels?
What you need: Krylon Glitter Blast and Clear Sealer, masking tape, and of course a pair of heels
1.Place strips of masking tape over the body of the shoe so only the heel is left uncovered.
2.Hold the can of Gold Glitter Blast eight inches from the heel and spray. let dry for 10 minutes, then repeat. Once the second layer of glitter is dry spray sealant on heel. 
3. Allow to set over night, then remove tape.

Holy adorned jeans! Of course we can't talk about DIY blogs without mentioning P.S.- I made this. Try these season appropriate adorned jeans.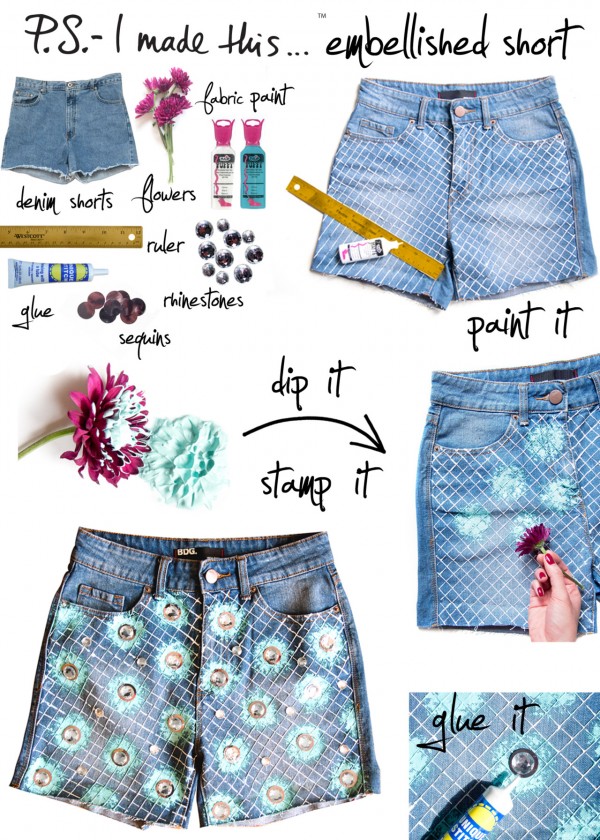 To create: Start with your favorite pair of jean cutoffs. Use a ruler and a pencil to create a grid pattern – size of grid and spacing depends on your preference (our lines are approx 1/2 an inch a part). Use a pencil to draw grid and then trace over with white puffy paint. Once dry use a real or fake flower to dip in fabric paint to create a stamp. Stamp the flower shape directly onto shorts in an alternating pattern. We used about 9-10 stamps per each side of short. Once paint is dry use fabric glue to secure large paillette sequins to the center of each "flower" shape. Once all are in place and dry then glue the larger flat back gems to the center of each sequin. Finally secure the smaller gems between each "flower" shape. (Approximately 5-6 per side). Allow to completely dry before wearing.
Honestly…WTF has a fun DIY section… Try this Dolce&Gabbana inspired headband!
What you need: a black velvet headband, small ceramic flowers, faux pearls, assorted pre-set rhinestones, a popsicle stick, toothpicks, and e6000 glue.
Start by squeezing a small amount of glue on a popsicle stick and using the tip of a toothpick apply a small dollop of glue on the back of the ceramic flower. They suggest starting with larger adornments first.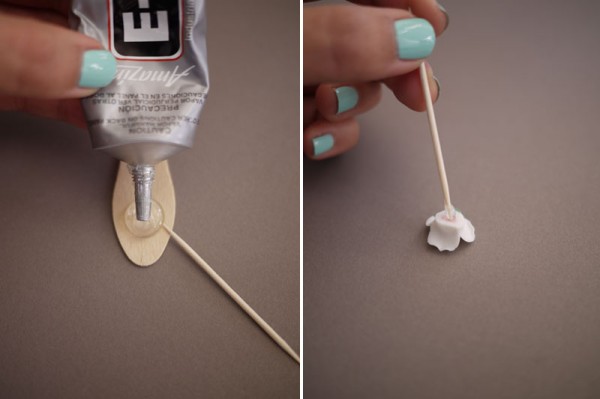 Hold each adornment in place for 1 minute until glue is set.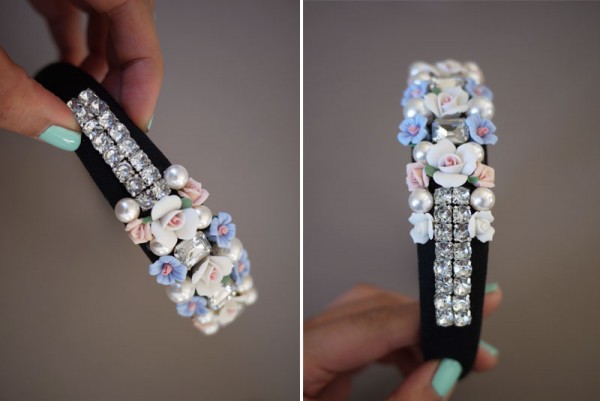 Create a patter alternating flower, pearls, and rhinestones.