We are all familiar with the idea of fast and affordable fashion a la Forever 21, H & M, Zara, Mango and I would say that Target is heading in the same direction. These stores are usually known for their inexpensive runway lookalikes—the kind of places that I find myself shopping at for a last minute item I'll wear maybe once or twice. However in the past few years these fast fashion outlets have stepped it up a notch with designer collaborations featuring the likes of Karl Lagerfeld and Alexander McQueen, and even putting out their version of "contemporary" collections. Anyway I say all that in introduction to the newest "it" store to hit NYC—Uniqlo. With its long awaited opening happening today my Twitter feed has been bombarded with Uniqlo launch celebration tweets since last night…it has been crazier than when Zara finally launched e-commerce in the U.S. last month.
So what is all the Uniqlo fuss about? Well, thanks to their highly entertaining Uniqlo introduction via the company website… I totally get why we should all be excited. The Japan based company specializes in all things basic and essential. Now, for a minimalist like me this can only be described as heaven, however if you do happen to be the snazzier type this place can be all the more fun because you can mix and match colors, styles, patterns, fabrics, and all to your heart's content.
The company's slogan is "Uniqlo. Made For All" realized in what they tout as well-designed, quality, and affordable clothing made for all regardless of age, gender, occupation, ethnicity and any other ways that define people. This may seem like a lofty goal, but I think that they just may have accomplished it with their Fifth Avenue Global Flagship—89,000 square feet of floor space, 100 fitting rooms, and 50 registers spread across 3 floors.
So now let's get to the fun stuff. The first floor is dedicated to cashmere, and not the kind that is 10% cashmere and 90% cotton; this is the real deal 100% cashmere. For the first couple of weeks they will be running a special with cashmere tops starting from $49.00, with regular price points reaching upward of $100.
The second floor is dedicated to the +J line, which I am betting will be my favorite. +J contains the store's higher-end clothing, which includes wool and cashmere coats, jackets, dresses, knits, parkas, shirts, and bottoms. The line is neutral heavy with hints of plum and navy and the silhouettes are classic and clean. Prices range from $49.90 to $349.90.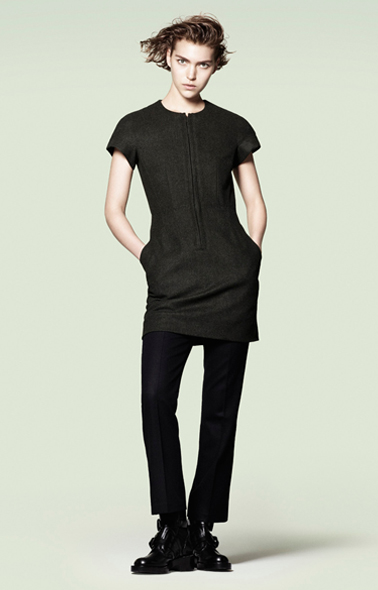 Finally the third floor is dedicated to both the men and women's clothing sections filled to the brim with jeans, basic Ts, bags, leggings, accessories etc. The price points here are similar to that of the stores mentioned earlier. They even have a special grand opening sale on denim priced at only $9.90.
By Kristianne Young
Photos: uniqlo.com
Source: racked.com