I think that it can be unanimously agreed upon that Mary-Kate and Ashley Olsen have come a long way in the fashion industry since their days designing a pre-teen clothing line for Wal-Mart. In 2007, the famous sisters launched The Row, a luxury apparel and accessories brand. Since it's beginnings the brand has expanded to include everything from leather leggings, and evening dresses to outwear. So it is only natural that the next step for the brand would be handbags.
Mary-Kate and Ashley launched The Row's first handbag collection at Barneys New York this July. The sleek and sophisticated collection fits perfectly within the brand's "classic and ultra-refined" philosophy.


Photo:The Window
Mary-Kate and Ashley have been known to track down the most opulent of materials to create clothing and accessories that can only be defined as "contemporary luxury." With handbags made of ostrich and python there is no doubt that the Olsens intend for this collection of handbags to be a fashion investment that will withstand fleeting trends. At $39,000, yes you read correctly, The Row unveiled its most expensive investment piece at the Barneys launch party—a backpack constructed of alligator skin.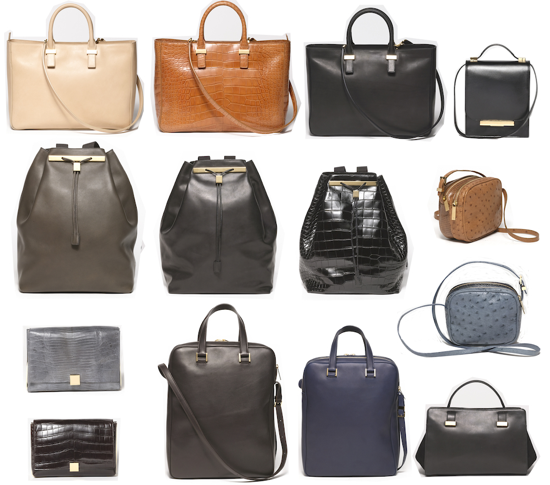 Photo:The Window
The exorbitantly priced backpack has no doubt garnered the most coverage leaving many wondering just how much one can be expected to spend to own a first edition The Row handbag. There is still a bit of mystery surrounding the exact price points of the bags as curious shoppers are directed to call the nearest Barneys, but the brand has confirmed that several of the smaller bags range between $4,700-$5,500.
A considerably steep price to pay for a luxury bag Refinery 29 asks Amanda Brooks, Barneys Fashion Director, how she felt about the collection's price points, "I think the price-point is scary if you think about the bags that everybody is going to buy for the season…a trendy bag. But, if you're like I am, when I buy a bag I'm thinking about a three year investment, I'm not thinking about a three month investment."
Barneys allowed the sisters to interview one another for their blog The Window; here is just a snippet of the interview shedding a little light on what inspires the famous duo:
Mary-Kate Olsen: What is your favorite piece of clothing you've designed for The Row?
Ashley Olsen: I would have to say our first t-shirt. We have evolved so much since that first tee, but every collection is based on the same standards—luxurious fabrics, impeccable fit, and the highest level of quality.
Ashley Olsen: What are your favorite materials and textiles to work with?
Mary-Kate Olsen: I love furs and skins because the textures are so compelling. We push ourselves and our team to consider new ideas and techniques for incorporating them.
By Kristianne Young
Sources: Barneys New York The Window
Refinery29.com