Fashion students at Queen Creek High School (QCHS) are staying on top of the fashion game by learning about sustainable fashion practices. Through the school's Career and Technical education program, students are able to enroll in an upcycling, or sustainable, fashion class, where they learn how to create one-of-a-kind looks completely out of recycled materials.
AFM had the opportunity to find out more from QCHS student Isabella Tapelt and her teacher, Megan Hartfield.
 Q&A with Isabella Tapelt, QCHS junior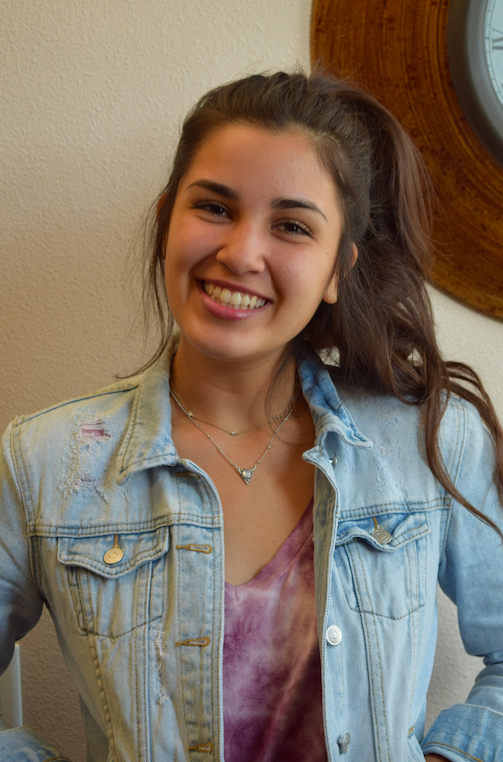 AFM: Hello, please tell us a little bit about you – What year are you at QCHS? What is your interest/background in fashion –
IT: I'm a junior.  I am here because the fashion program was offered and other schools didn't have the course offered. I heard about it before I got here. I took Fashion I during my Freshmen year. I am taking Fashion II junior year because I can express myself through closing and styling. I like to express through a creative way, not only me but also through others. I enjoy designing and creating authentic pieces.
AFM: What interested you in enrolling in the upcycled/sustainable fashion class?
IT: Being able to advance from a lower class and knowing all the components and get started right away on what I wanted to create. The freedom to go above standard instruction that is offered in Fashion II was a big draw for me.
AFM: What is your favorite part about the class?
IT: I have so many. Honestly, the teacher, Mrs. Hartfield, makes it the best class. She has two classes into one and can balance all of us. She believes everyone can learn and allows us to put in more time and effort beyond the traditional class day. She breaks down instruction so everyone can learn and she gives her time to both Fashion I and II to help us all grow.
AFM: What is your upcycled company and brand?
IT: My Fashion Line was Boho Go With The Flow. Many of my designs were flow-y with a bohemian look.
AFM: If you have an example of your recycled/redesign garment to share, could you please explain your inspiration and design process?
IT: I got my inspiration from a bohemian dress from a dress design I saw at Tilly's. I wanted to add stitching to increase the flow. I added the tie straps above the neck. It is a great summer piece to hang out in at the beach with your friends.
AFM: After this class, do you think you'll consider upcycled fashion in your work as a designer going forward?
IT: I definitely want to partake in something much bigger than what we are doing in this class. I do not want to sew my own clothes but I do want to design. I am able to use what I've learned in my job now at Francesca's with being able to style a variety of clothing for women.
Q&A with QCHS fashion teacher, Megan Hartfield
AFM: For those who are unfamiliar, what is upcycled or sustainable fashion?
MH: Upcycled fashion is a term in fashion where you take an already pre-existing garments as your shirt or pants and you alter it or modify it to become something completely brand new that's still wearable but doesn't necessarily resemble or isn't the same as what it originally was.
Sustainable fashion is a growing trend in fashion where designers use materials that are meant to be eco friendly where they are consciously choosing materials that will have a lesser impact on waste overall and carbon footprint.  They choose materials that can ideally be recycled and reused once they have served original purpose. Emphasis on natural fibers like cotton.  
AFM: Why is this course offered for first year QCHS fashion students (as opposed to other years)?
MH: This course is offered to students in any grade 9 through 12 as a first year and then we really try to encourage students to be program completers by taking the second year as well.
AFM: Can you please give an example of an assignment in your class?
MH: This program is project based so we do a variety of projects.  For example,  in the first year, students create their own company and product.  They create a business plan,  advertising strategy,  and market the product visually by creating a window display.
The second year is all about creation of product and creating own brand with personal fashion line design and construction.
When students are tasked to create their own upcycled looks, what types of materials are they allowed (or not allowed) to use?
For upcycled garments,  students are to bring in their own garments from their personal closet that they haven't worn in several months. Their job is to create at least five changes in the clothing,  whether they are subtractions or additions to the garment. The upcycle garment uses only clothing that is already pre-existing for this project.
For the recycle and redesign garment, students are allowed to use almost any material that they choose whether it be remnants of fabric, plastic bottles, or any other material that you might not necessarily think as a traditional fabric or clothing piece.  We've seen a variety of materials like candy wrappers,  bottle caps, playing cards,  newspaper, wire,etc. This project requires students to use at least three different materials to incorporate into this design.
AFM: Why is upcycling in fashion important?
MH: Upcycling is so important because the fashion industry is inside infamous for being wasteful and creating so much of as impact on the environment. There is a huge movement to create clothing that not only looks and feels good, but isn't harmful as well.  By reusing existing materials, we are putting less out there from manufacturers that can be damaging in the long run.
AFM: What do you ultimately want your students to take away from your class?
MH: This class is an excellent opportunity for students to emphasize both their creative and their logical side. I want students to be able to take away a sense of confidence knowing that they can create something that did not exist prior. This class teaches students real skills that can be applied later on on life whether they choose to continue on in the fashion industry or as simple as providing alterations. It's really about students knowing that they have the ability to create something uniquely their own.
Is there anything else you'd like to add?
MH: We are always looking for industry contacts to work with our students whether guest speaking or directly in the field.