As a little girl there was nothing better than watching Miss USA, Miss America or Miss Universe. As a kid the glitz and glamour of those statuesque pageant contestants was bigger than life. But over the years amidst our celebrity obsessed culture the pageant thing has lost it's luster plus all the scandals of recent years make the fakeness seem even more fake.
Though I will admit that after a few of those interview question blunders heard round the world like the famous "people who don't have maps" or the contestants that said if she could meet anyone it would be Justin Timberlake… hmm now isn't that the girl that we want representing us as a country? Those answers alone makes one want to watch just to hear what ridiculous answers will come out of some of these overly lined and glossed lips. As time goes on the pruning and polishing of these contestants just becomes more and more cliché' Just once I would love to see someone who really just let's her hair down and acts natural.
In any case head honcho Donald Trump is certainly trying to spice things up a bit by having the contestants do some very "modern" looking Maxim-esque photo shoots that appeared online giving the public an opportunity to not only view but vote on for the Miss Photogenic. Miss Alabama won the photogenic award and I must say the girl was super glammed and sexy in her pic, but as wholesome as could be in person…. Ahh, the magic of photography…I love it! Of course I'm not saying that little Miss Alabama was not a pretty spectacle all on her own because she was.
I could not be more delighted to see Joan and Melissa Rivers commentating this year from the sidelines. I know, I know and I don't care how stretched or pulled up to her hairline Joan is, she is still as sharp tongued and snarky as ever and I dig that.
As always the evening gown competition was vamped up and beautiful even if there were a few little slip ups…Miss Michigan did the always risky train and it didn't bode well, but the girl has good reflexes and recovered completely…not to mention that everyone will be writing about her this morning!
.
This year the white gown trend continued as several of the top ten donned the always elegant shade. I especially loved Oklahoma's gown with coral beading and Virginia's keyhole front gown. Both curve hugging and incredible looking.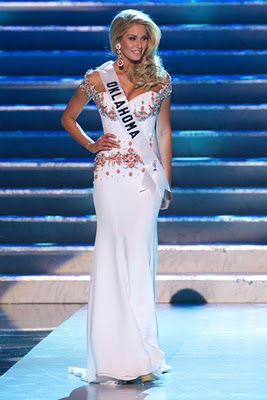 And even though the extra tall Miss Maine wore a beautiful black gown that fit her perfectly I couldn't help but feel a weird little chill in her attitude.
So the big spoiler alert! I am going to reveal the winner so if you have this TIVO'd don't go any further, if not read on. I personally liked Virginia and Oklahoma (and I actually liked the way she handled the question on the AZ Immigration law). I suppose Maines demeanor was evident to the judges as well as she places 4th, with Colorado as 3rd runner up, Virginia as 2nd runner up, 1st runner up Oklahoma and Miss America is Rima Fakih from Michigan. Ms M is the first Arab-American to win the crown since the pageants inception back in 1952 I must say, even though she wasn't initially my favorite I loved her response immediately after winning the crown to "How do you feel? "Ask me after I have a pizza?" Now that is my kind of girl!!!