Marc, Marc, Marc, how do I love thee? Let me count the ways.. first the parade of celebrities missing from the front row of your Fall 2010 show, the stripped down brown paper backdrop and set, the acoustically mesmerizing "Somewhere over the Rainbow", the attention to detail in every sweet garment and for remaining steadfast in the pursuit of wonderfully wearable collections year after year.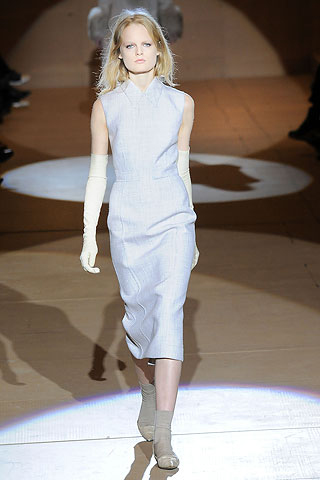 Always an arbiter of cool, Jacobs made a smart and savvy move this season that cements him with true staying power. Let's face it, for us regular folk aren't we a tad tired of seeing the same five celebrities over and over again, well make that six since Lady Gaga is a front row must these days. Now that celebs have taken over magazine covers, ad campaigns and even Youtube. I personally yearn for the days of old when actual fashion editors and buyers sat front row for a reason.

And in a time when over bling and flash starts to look selfish rather than luxurious I am all for a stripped down old school fashion show stage. Really how could MJ lose, the cool kids will think he is even cooler and the hob snobs will jump on the band wagon just to be a cool kid. Bravo! Well played… and hopefully well played with conviction. Aside from all of this Mr Jacobs is still churning out lovely garments. This collection seemed to be a tad bit of a homage to seasons past. Practical but pretty, flashy at times but not overly so and the models epitomized the traditional downtown cool chic that MJ is known for.
Wearing a palette of neturals and soft hues models marched down the runway in signature knits, tweeds, lingerie looks, three pieced suits and floor length dresses with seventies details. In true Marc spirit the proportions were played, buttons were shifted and lengths were askew.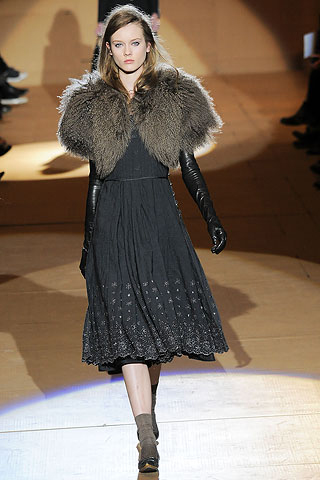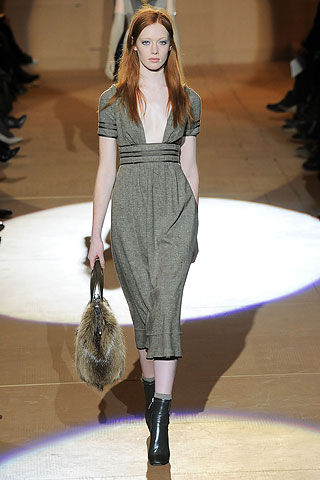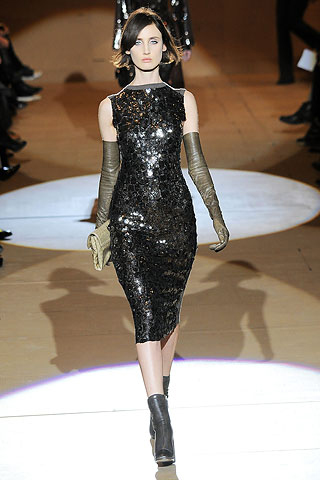 Jacobs used several unknown models and though gorgeous all looked more like a crop of young editors and fashion assistants than supermodels. To me this is refreshing in a time when the average consumer seems to be seeking pieces that are familiar and wardrobe friendly that they can really live in and feel good about when laying out the greenbacks.
Have I said it enough, I applaud Mr Jacobs for always beings unique and staying true to his own aesthetic. Something that not everyone has done when the chips are down..bravo again!