For those still trying to snag a signature print shift dress or at least a scarf from the Lilly Pulitzer for Target collaboration, I'm sorry to say that the line has virtually sold out in less than a day, according to a Target representative.
Shoppers anxiously waited, determined and blurry-eyed, at their computers once the clock struck midnight Sunday morning anticipating the launch. Once Target gave the green light, online shoppers were frustrated to find the site inaccessible or were unable to add items to their carts.
Meanwhile, others lined up outside brick-and-mortar Target stores as early as 5 a.m. across the country, only to see items wiped clean off the shelves within minutes.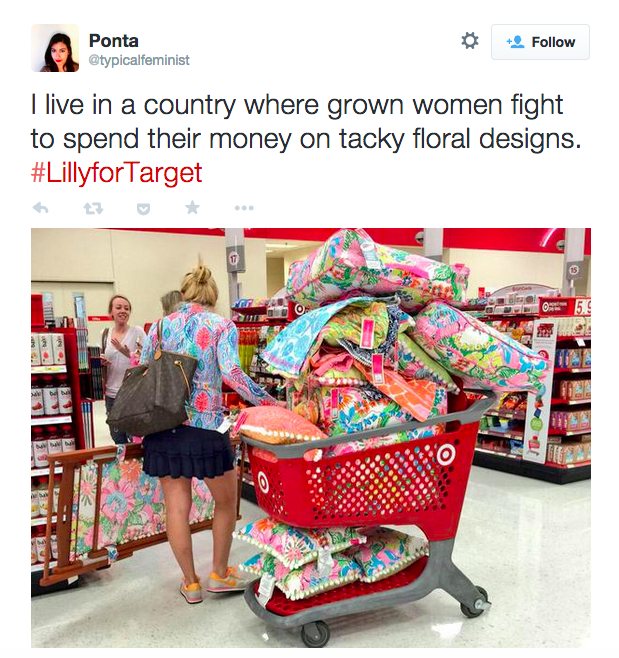 Target has confirmed that all pieces from the Lilly Pulitzer x Target collection are sold out online, however there may still be few lingering inventory available at select stores.

"It's not going to be restocked," a Target spokesman told Mashable. "It's never our goal to sell out in a day; our goal in stores [is] from four to six weeks. It's definitely a limited-time run. We do not restock or replenish. It really is a 'Get it now before it's gone' type sale. Shop early, shop often."

Many shoppers were afraid people were overbuying to only resell items on sites like eBay. Indeed, you can find most of the collection up for sale on eBay right now with prices that are moderate to just ridiculous.

My advice: If you can't find a decent price on that must-have Lilly for Target item, then treat yourself to your very own real Lilly Pulitzer.
For example – This post on eBay marks up a shift dress from Lilly Pulitzer for Target to $255.00.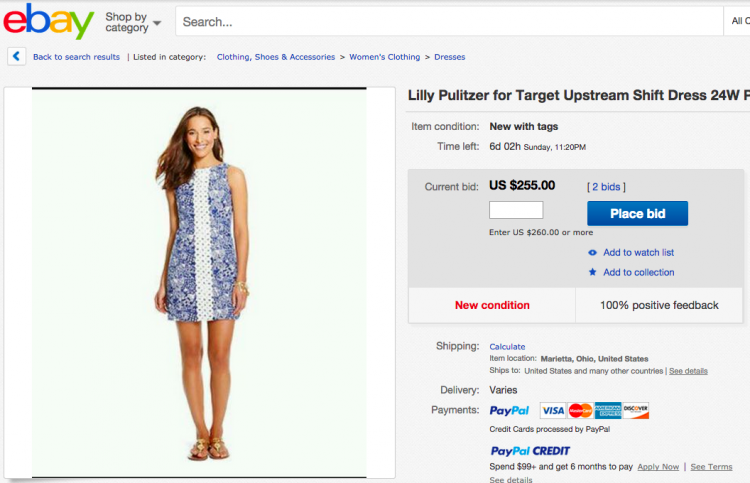 Or you could purchase a Lilly Pulitzer shift dress directly from lillypulitzer.com or in store for less, not to mention the tradeoff on quality. This cute number is $198; about the average price for a Lilly Pulitzer shift dress.