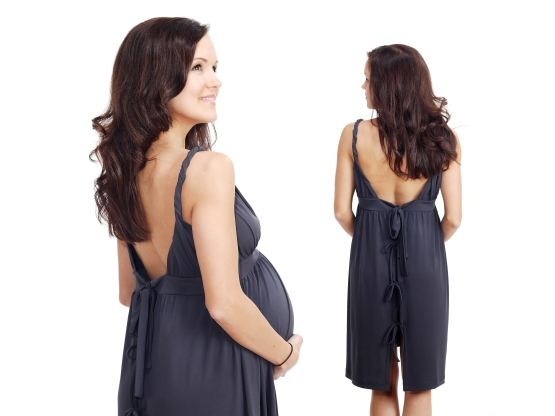 I've never been able to raise just one eyebrow at a time so please wipe that perpelexed look off your face about the image above because that's the exact look I (tried) to make when I originally got this pitch. But, then I realized, even though I'm not pregnant nor will be anytime soon (if ever, sorry mom), this Dar-A-Luz maternity gown is still really cool.
Boston designer Daniela Corte fashioned this hospital-friendly dress for expectant mothers to wear to the hospital when in labor. Toss the fussy paper gown to the side, this one's made out of supersoft organic cotton jersey with an empire waist. The back has four ties so that it's easily accessible for doctors and nurses to administrate medication.
I know most people would have birthing on the mind, but I'd rather be wearing something cute like this too!
Dar-A-Luz  is Spanish for "give birth"  and was created by Daniela Corte when she was pregnant with her first child and was looking for cute and comfortable clothing for the big day.
The dress comes in violet and steel blue and is available at www.danielacorte.com.