I am always on the hunt for a fabulous cleanser. And always a fan of the oil or balm variety. Over the last decade I religiously used Eve Lom, Sonya Dakar and a few other slippery little cleansers to keep dirt, grim and gunk away. Though I am still a big fan of both, in the last few years I have begun to incorporate more organics into my routine whether it's makeup or skin care. And believe it when I say I don't miss all the extra chemicals that come with traditional formulas.
Though I had heard a lot about One Love Organics I hadn't experienced all their natural goodness until recently. This line proves you can be natural, organic, simple AND effective. In fact Dr Oz thinks so too because this little line is now part of his shop Beauty Sage.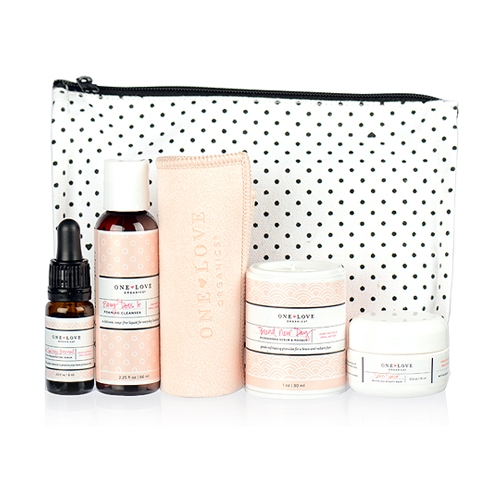 You can find out more about One Love Organics on their site but before you do take a peek at their great tutorial about double cleansing. The tutorial features their products, but you can always insert your own for now. This is a method that I was first introduced to in beauty school way back in the eighties… and a method that European trained aestheticians swear by. Give it a try and feel the difference for yourself!
Proper cleansing is the foundation of effective skin care. Double cleansing thoroughly removes the daily dirt, dust, oxidized sebum, dead skin cells and residue from makeup, sunscreens and skincare that accumulate on the most exposed part of the body: your face. Freshly and deeply cleansed skin is also the optimum base to receive and greatly benefit from the positive effects of treatment products. The Double Cleansing Method will help promote healthy, balanced and properly moisturized skin.
Why is the double cleansing method so effective? Because there are two types of dirt: oil-based dirt (like oil in make-up) and oxidized sebum and water-based dirt (like dust and sweat). Water and oil don't blend well together because of their conflicting properties so it is best to use an oil-based cleanser first because oil dissolves oil. One of the most basic principles of chemistry is that "like dissolves like." Beneficial plant oils cleanse your pores of dirt and bacteria naturally, gently and effectively, without stripping the skin. A foaming cleanser will remove any remaining residue and deeply purify the skin.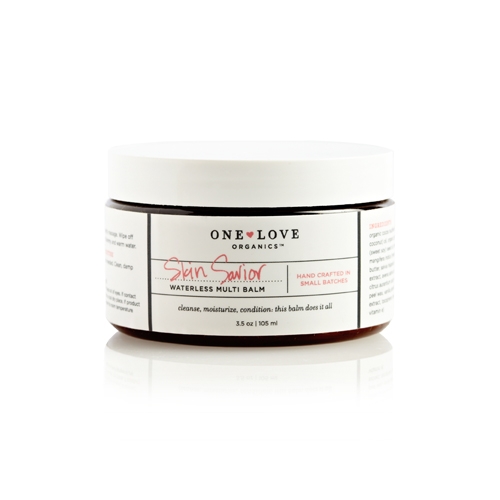 One Love Organics' Double Cleansing Method
In the P.M.:
1. Massage.
Warm 1-2 scoops of Skin Savior Waterless Multi Balm into your dry hands and massage onto dry skin. Using slow, firm motions, massage upward and outward with your fingertips. Facial massage helps improve blood circulation, relieves stress and helps to maintain skin elasticity.
2. Relax.
As you're massaging, let your mind drift off to something calming and breathe deeply. Take this time to relax and release stress. Give the oil enough time to dissolve the impurities in your pores and give yourself enough time to unwind.
3. Remove.
Use My New Best Friend Skin Shammy to gently remove the balm from your face. Gently remove eye makeup with the Shammy, too.
4. Purify.
Using a small amount of Easy Does It Foaming Cleanser, cleanse the face using circular motions for one full minute. Rinse thoroughly with lukewarm water.
5. Tone.
Splash face with cold water to tone. Cold water causes vasoconstriction of the vessels, brightens your complexion and makes your pores look tighter.
6. Treat.
While skin is still damp, apply 2-4 drops of Love Springs Eternal Facial Preservation Serum to help lock in moisture and provide a protective barrier. Be sure to include your neck, décolleté and the back of your hands.
In the A.M.:
1. Freshen.
Cleanse face with Brand New Day Microderma Scrub & Masque.
2. Tone.
Splash your face with cold water to tone.
3. Protect.
Apply Skin Savior Waterless Multi-Balm or Love Springs Eternal Facial Preservation Serum.
Believe in the power of this beauty ritual to renew, relax and transform you. Enjoy!
Source: One Love Organics
Photos: One Love Organics and Soma Magazine