As we've seen with other songstresses, Rihanna is set to launch the latest celeb fragrance called Reb'l Fleur. The name refers to a nickname that Miss R's grandmother in Barbados used to call her, and the latest tattoo in a long line of tattoo's- number 14 to be exact.
The fragrance launch itself has created high expectations at Parlux, where chairman and chief executive officer Fred Purches is hoping Rihanna will add to the strength of the companies brands which include Paris Hilton and Jessica Simpson.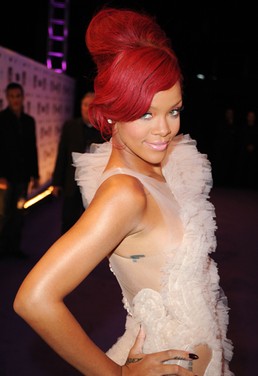 Though the company declines to mention numbers, industry insiders estimate that the fragrance could generate up to $25 million in retail sales after the first year and a half and ultimately achieve a peak of $50 million in retail.
Set to launch on Jan. 25th at over 500 Macy's doors across the country with a week long visual kickoff. The U.S. distribution is set to grow upwards of 1,600 to 2,000 department store doors. And within three months, distribution is expected to spread overseas.
One thing that will be impactful about the scent itself is the blend of fragrances that comprise the actual aroma. Rihanna is known to have a habit of blending fragrances together to concoct her own signature scents. "This is not a shrinking violet kind of fragrance," said Kathleen Galvin, vice president of marketing and advertising as told to WWD. And Rihanna is said to have been incredibly involved in the process of helping formulate the aroma which was developed by Caroline Sabas and Marypierra Julien of Givaudan. The blend is a compilation of red berries, purple plum, peach, Hawaiian hibiscus, violet, tuberose and coconut water in a base of vanilla, patchouli, amber and musk.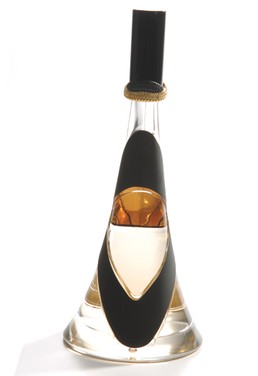 The songstress is said to have wanted a scent that brought together her roots in Barbados and her more glamorous life in New York and Los Angeles. In her words short flirty dresses, heels and sparkles. No doubt that admirers of the singer and in fact anyone that loves her sexy image will be clamoring to get a whiff of the anticipated scent.
Look for ads of Rihanna lounging in a campaign shot by Anthony Madler which will appear everywhere from billboards to magazines ads and the web, along with in store promotions and personal appearances all set to begin in just a few short weeks.
As for price points, a 1.7-oz. eau de parfum will retail for a suggested $49, the 3.4-oz. size will be priced $59 and a 6.7-oz. body lotion will be $30.