Yesterday Diane covered her favorite Academy Awards red carpet dresses, and I agree 100% with all of her choices—Jessica, Mila, Michelle they all looked amazing. Being that the dresses were so gorgeous, jewelry was at a minimum with many opting for earrings sans necklace and vice versa. Which leads me to the next thing we all look at … the hair. There were several dos that appeared be trending on that 500-foot carpet on Sunday and we are here to share our favorites and of course how to get the look for yourself.
Side Swept Curls
Maya Rudolph, Stacy Keibler, and Busy Phillips all sported side-swept tresses (well Busy's hair wasn't curled but it counts for our purposes).
How to get the look:
1. Curl hair with a large barrel iron
2. Sweep hair over shoulder and secure with bobby pins
3. Spray with a flex-hold hairspray
Look at that truly as easy as 1, 2, 3!
The Parted Updo
It seemed that everyone who was anyone was sporting a sleek and regal looking updo (especially with bangs and a part), almost too many to name: Emma Stone, Octavia Spencer, Kelly Ripa, Ellie Kemper… the list really does go on.
How to get the look:
1. Use an anti-frizz serum in damp hair
2. Create a clean part where desired (side, middle, or at bangs)
3. When hair is dry comb back and secure tightly (in bun, tuck under, twist, or any updo you prefer)
4. Smooth any stray hairs with a smoothing cream and spray
Low Pony
Thank you Gwyneth for a truly easy do… I'm sure that many a fashionista will be wearing a low pony to events for at least the next 6 months thanks to Ms. Paltrow.
How to get the look:
1. Blow dry hair then use a flat iron to insure hair is super straight
2. Create a deep side part
3. Pull hair back and secure at nape of neck using a thin elastic tie that matches your hair color (be careful not to secure too tightly)
4. Smooth all flyaways and spray
These last few looks are not hairdos per say but rather haircuts that I wish I had the guts to try (that is if I could even pull them off to begin with).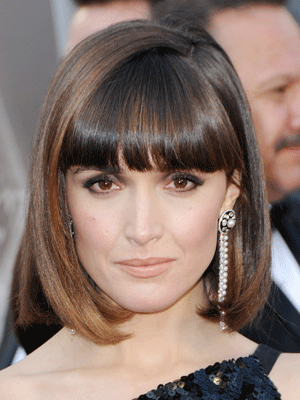 Rose Byrne's bob and bangs were the perfect red carpet combo.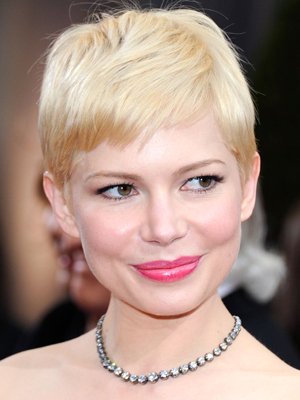 Michelle Williams is one of the few women who manages to absolutely adorable and still ultra feminine with short hair.
By Kristianne Young