This morning I was flipping through my always extensive list of daily emails and, as usual after skimming about 90% of them I settled on the three of four great little fashion subscriptions that to me are like a big cup of Joe revving me up to get my day started.
Of course as my blogging good fortune would have it just yesterday while on a shoot I was demonstrating to one of the models how she could recreate the beachy tousled hair that I was perfecting on her gorgeous locks and this morning lo and behold Refinery 29 has a great DIY article on just that very subject! And perfect timing no less, as we Zonies love nothing more than a watery escape as the mercury climbs, but we still want to look good. And let's face it, is there anything quite as sexy as a beachy mane? I think not, plus this do is a great look to wear anytime day or night. Not to mention that with a little imagination you can vary the look to suit your needs, adding little braids, a loose pony or pin up sections in the back to create a twist or bun that will also look super chic. Here's the experts take on this versatile do.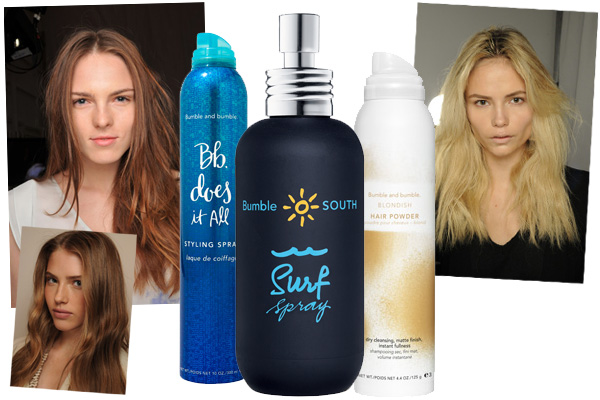 Bumble and bumble's Editorial Stylist Sabrina Michals tells us how to get that sexy beach hair look nice and easy.
1. To get that great beachy ropey texture start with damp hair and spritz with a texturizer like Surf Spray, $22, part hair into six sections and loosely braid. Spritz each braid with a soft- to medium-hold styling spray like Does it All Hairspray, $22.
2. Blast each braid with a blowdryer until dry, or sleep on the braids.
3. Gently unravel the braids and rake fingers through hair. Spray a little with Bumble and bumble Hair Powder, $35, to create more texture.
4. Use the pads of your fingertips and massage hair along the crown to create some cool flyaways and a subtle lift at the crown.
5. You can also use an 1 1/4″ curling iron to create a few face framing waves. Wind the hair around the curling iron, twisting the hair a bit to create a bit of ropiness, leave about an inch of hair out of the iron, so the ends remain flat. The flat ends give the look a more unstructured cool-girl vibe instead of being too pretty. Rake hands thru the curled pieces to loosen.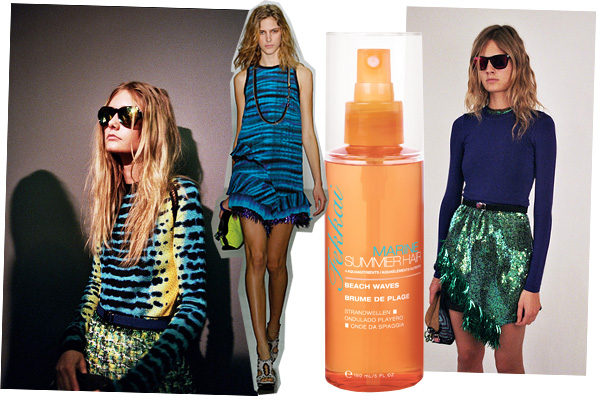 Above: At Proenza Schouler's spring 2010 show, Didier Malige, lead stylist for Frédéric Fekkai prepped hair with Fekkai Beachcomber Leave-in Conditioner, $23, spritzed it with Fekkai Coiff Oceanique Tousled Wave Spray, $23, blow-dried the hair using his fingers as a brush, and finished the look by pulling Fekkai Coiff Magnifique Ultra-Light Finishing Creme, $23, through the hair with his fingers. We recommend Fekkai Summer Hair Beach Waves Spray, $23, for an instant windswept look. Proenza Schouler backstage photos by Josie Miner.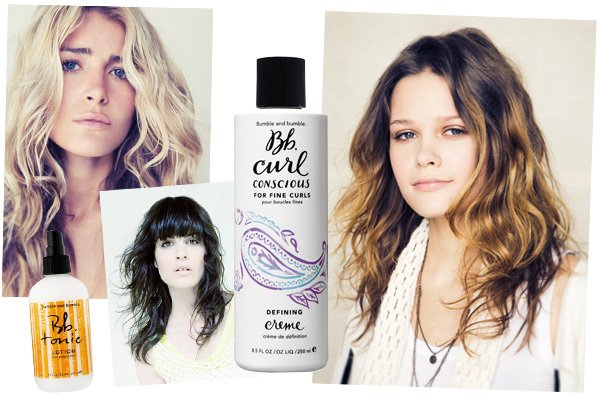 Above: For wavy or curly hair like these mane muses from Bumble and bumble, spray hair liberally with Bumble and bumble Tonic Lotion, $18, work through hair then apply Curl Conscious Defining Creme, $27, working through hair from nape, moving forwards. Scrunch while air drying. If desired, tease roots and crown for more lift.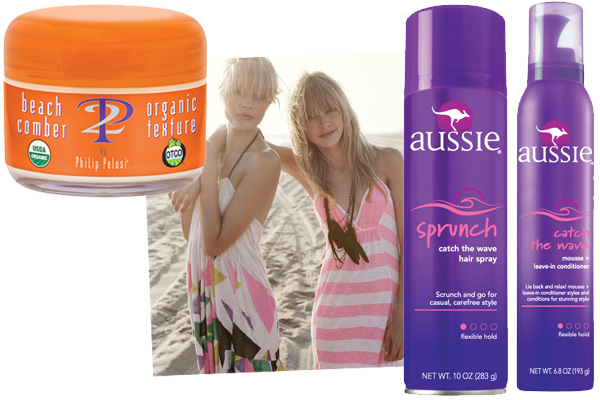 Above, left: For lightweight beach texture and volume, distribute Philip Pelusi USDA-Certified Organic Beach Comber Paste, $28.95, evenly throughout your entire head, scrunching with your palms as you go. For a piece-y look, add small amounts to key strands and finger style. Above, middle: Inspiration image from Roxy's summer lookbook. Above, right: Aussie's new Catch the Wave collection enhances naturally wavy hair adding definition and shine.