Cheer on your favorite Arizona football team this season with painted digits that match your team spirit.
Whether you're a diehard member of the Arizona Cardinals, ASU Sun Devils or UofA Wildcats, show your support of Arizona's home teams with a fanicure that stands out.
Feel free to have fun to mix and match team colors, patterns and designs by using regular polish and nail decals.
Here's some football-themed nail art inspiration to get you started.
Arizona Cardinals – Rep the birdgang with a fun manicure that features the Cardinals' colors and mascot.
To achieve this AZ Cardinals look, first paint your nails with a coat of white polish. Then, apply any of the 36 Arizona Cardinals-themed nail decals from this awesome Etsy shop.
As the NFL's official beuaty sponsor, CoverGirl has your nails covered with fun looks and beauty inspiration for each major team. For this spirited look, first paint nails with one coat of  Outlast Stay Brilliant Nail Gloss in Forever Festive 185. Allow nails to dry. Next, paint slight curves with pointed ends using XL Nail Gel in Haughty Lemon at the beginning at the top-middle of nails. Finally, outline sections with Diva After Dark 325 and finish with thin curved lines in the centers.
ASU Sun Devils – #FeartheFork with a maroon and gold-colored mani.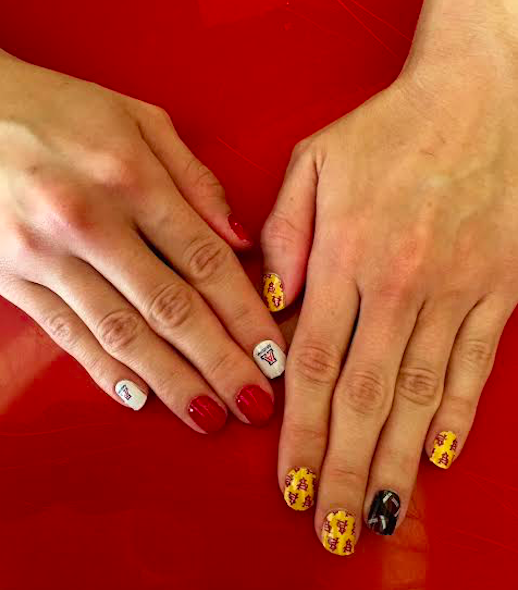 Full disclosure: I had the chance to try out Jamberry's sports-themed nail wraps and they are awesome! These DIY fashion nail wraps are applied with a quick process of heat and pressure and last for up to 2 weeks. Though I'm a Sun Devil at heart, I couldn't play favorites here since both the ASU and UofA logo nail wraps were super cute; not to mention the clear football wrap on my ring finger (I first painted a coat of black polish and then applied the nail wrap to make the footballs "pop").
According to Pinterest, this unique ASU-themed glitter mani was created by Nails by Debbie at Savante Salon in Gilbert.
This fanicure mixes Sally Hansen's Insta-Dri Nail Color to create a gradient effect.
UofA Wildcats – Support the Wildcats and #BearDown with red, white and navy blue.
Lawyer, nail artist and UofA alum Lindsay Yoshitomi mixed patterns and prints, while giving her ring finger nail a mixed medium 3D effect by applying dazzling rhinestones. Learn how she mastered this complex nail look on her blog.
The Wildcat colors of regal blue and cardinal red make for a bold gradient manicure with some sparkle.