You can still enjoy happy hour without all the extra sugar and calories. These easy to make summer cocktails are both refreshing and less than 150 calories.
Ingredients:
4 mint leaves
1 large basil leaf
1 lime wedge
1.5 ounces Skinnygirl Cucumber Vodka
3 ounces soda water
1/2 teaspoon agave nectar
Directions:
Squeeze lime wedge into rocks glass, muddle (aka mash) lime wedge with mint and basil leaves and vodka. Add ice. Top with soda water. Add agave nectar and stir. Garnish with lime wedge.
Makes 1 serving
Calories: 86 per serving
The Vino Quencher
by Keri Glassman, R.D.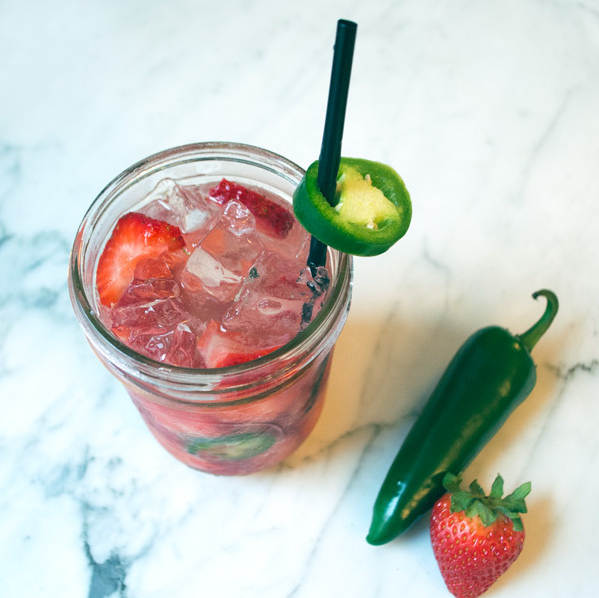 Ingredients:
1 cup blackberries
1 cup cantaloupe
1 bottle of full-bodied red wine
1 cup sparkling water
Directions:
Fill each glass with ¼ cup of blackberries, ¼ cup cantaloupe, and ¼ bottle of wine. Allow at least 10 to 15 minutes to infuse wine and blackberries. Add the sparkling water right before serving.
Makes 4 servings
Calories: 148 per serving
Ingredients:
5 cups seedless watermelon cubes
1/4 cup fresh mint leaves, crushed
1/2 cup vanilla-infused vodka, chilled
1/4 cup Triple Sec
3 tablespoons fresh lime juice
2 2/3 cups Champagne (or sparkling wine), chilled
Watermelon cubes and lime slices
Directions:
Process watermelon cubes in a blender on high until smooth. Strain. Measure out 2 cups juice. Add mint. Stir; chill 30 minutes. Add vodka, triple sec, lime juice and 1 cup ice; stir vigorously. Remove mint leaves. Fill glasses with ice and pour 1/3 cup watermelon mixture into each. Gently stir in 1/3 cup Champagne. Garnish with watermelon cubes and lime slices.
Calories: 144 per serving
Ingredients:
2 oz fresh lemon juice
2 tablespoons confectioners' sugar
8 oz pomegranate juice
6 oz gin
4 oz sparkling water
Ice cubes
4 black cherries (optional)
4 lemon slices, halved (optional)
Directions:
In a pitcher, whisk lemon juice and sugar until sugar dissolves. Add pomegranate juice, gin and sparkling water; stir until well combined. Divide evenly among 4 glasses filled with ice; garnish each with 1 cherry and 2 halved lemon slices, if desired.
Calories: 148 per serving
Sources: YouBeauty, Self Magazine