Candy corn and Halloween-themed wrappers on candy classics can only go so far. From edible crystal eyes that sparkle from another life to 24 carat edible gold coffin bits, frighten your trick or treaters and Halloween guests with delight with these luxury Halloween treats that are just to die for.
Dark Chocolate Skulls
Dusted with silver or gold powder with edible crystals as eyes, these eerily delectable dark chocolate skulls are filled with silky caramel, or house made peanut butter, for the perfect sweet contrast.
Taigan, $12.25/box of 4.
Bite on a finger or eyeball; the notorious Victorian, Lizzie, inspired a jump rope rhyme that incriminates her as an accused axe murderer. The superstitious chant is printed upon a vintage tin filled with whimsical, foil-wrapped anatomical milk chocolates.
Victorian Trading Co., $19.95.
Dead Chocolate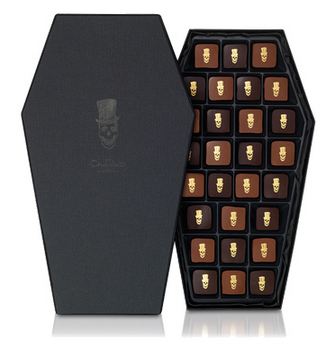 Simply to die for, this satin trimmed coffin is filled with 28 milk and dark chocolates that are finished in 24 carat edible gold. 
Hotel Chocolat, $90.
Spooky Eyeballs Bubble Gum Jar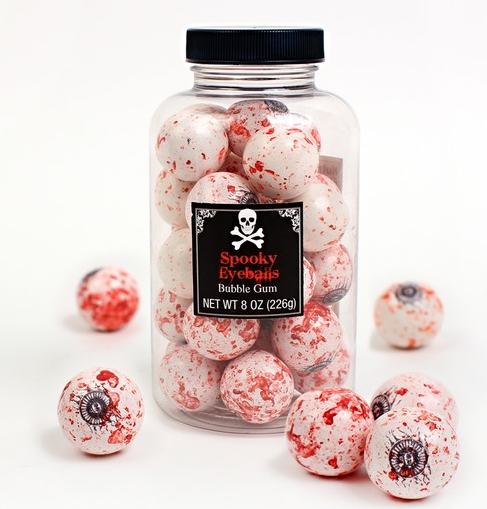 Chew on as many gum-filled blood-spattered eyeballs as you so dare. 
Dylan's Candy Bar, $6.
Who would've guessed mummies are so yummy?! Milk chocolate Oregon hazelnut praline and popping candy ganache fills this hand-decorated Mummy head.
Moonstruck Chocolate Co., $40.50/box of 18.
Frankenpops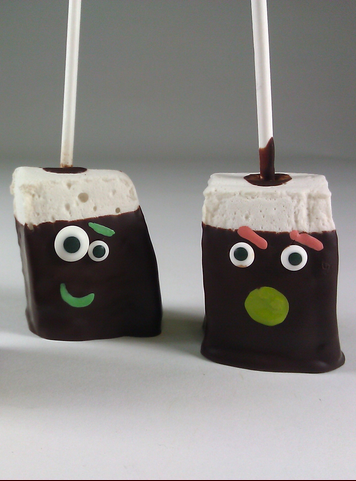 These ghoulish graham cracker marshmallows hand-dipped and -painted in chocolate are both daring and sweet.
Taigan, $3.05 each.