If you are able to squeeze in a wine tasting trip into your San Francisco adventure (and I strongly recommend you do) you must visit Domain Carneros. If you ever had the pleasure of visiting this breathtaking winery in Napa, you have undeniably experienced something truly special in California.
The château, completed in 1989, is best described as a first-class daytrip into 18th-century France, with its royal elegance and old-world charm. That being said, Domaine's Chateau Society Wine Club is the crème de la crème group for wine connoisseurs who frequent this French-inspired estate.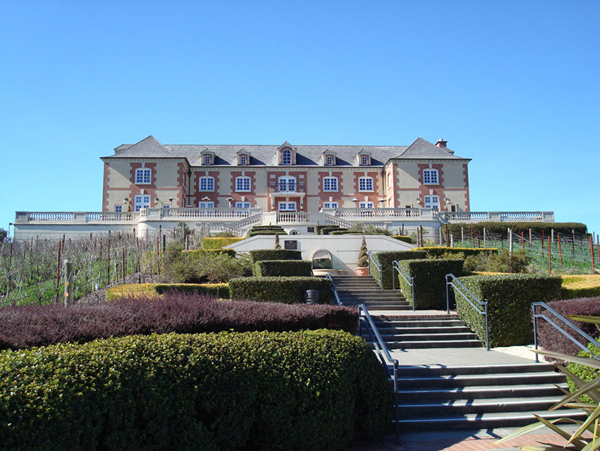 The mission of the exclusive membership club, according to the website, is to promote the importance of celebrating life as often as possible.
When you become a member of the exclusive Chateau Society Wine Club (after you fall in love with Napa and this enchanting winery of course), Domaine Carneros will send their Late Disgorged Brut, Demi-Sec, Ultra Brut, or Single Vineyard Pinot Noir to your home in the Valley six times throughout the year. Of course that isn't all. Additional benefits include exclusive access to Library Wines and special offers at luxury resorts and hotels throughout the Wine Country for your next visits to Northern California. But what makes this wine club a Napa Valley standout is weekend access to the private club room and exquisite outdoor terrace at the landmark chateau, which, according to the site, was "architecturally inspired by the historic Taittinger-owned Château de la Marquetterie in Champagne."
Domaine Carneros prides itself on being one of the few wineries with a luxurious outdoor restaurant for formal tasting and nibbling. You are welcome to indulge in the smooth wine in flights, by the glass, or by the bottle, and be sure to complement it with the caviar or artisan cheese plates. To top it off, the estate is perched atop a knoll that overlooks the plush green vineyards to give visitors the ultimate Napa backdrop.
For more information or to join Domaine's Chateau Society Wine Club, please call 800.716.2788 or visit www.domainecarneros.com.